September 29, 2021
AEP Foundation Gift Establishes Scholarship at Wheeling University
WHEELING, W.Va., Sept. 29 – A $50,000 gift by the American Electric Power (AEP) Foundation will establish an endowed scholarship that will provide financial assistance to West Virginia students to attend Wheeling University.
Wheeling President Ginny R. Favede said, the establishment of this scholarship will provide financial support to help young men and women attend the University. Each year, one deserving student will receive the American Electric Foundation Scholarship. Funding for the scholarship was provided through the American Electric Foundation Grant Program, which awarded nearly $100,000 in funds last year to support initiatives in the region. The Foundation has supported a plethora of non-profits and higher education institutions in the Ohio Valley for many years.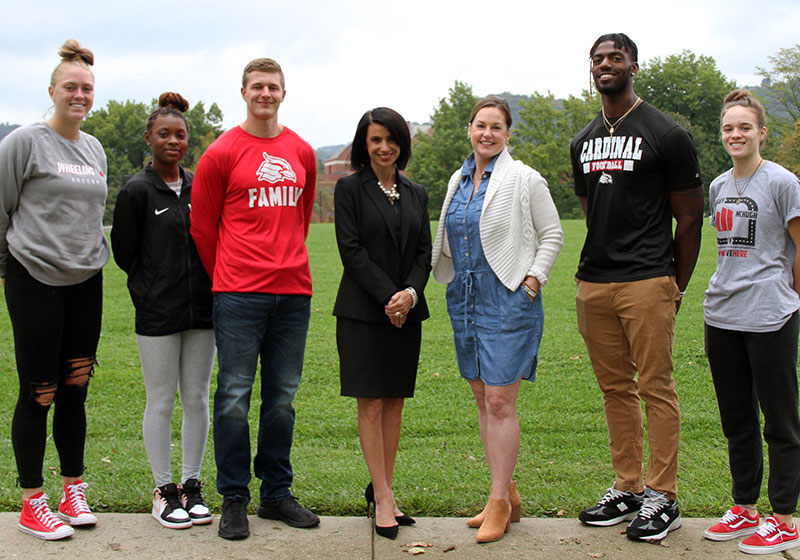 "AEP's mission to find innovative solutions for the communities it serves and to improve the lives of others, aligns with the University's mission to produce graduates who are men and women for life, leadership and service," President Favede explained. "We are grateful to the Foundation, whose gift, will allow Wheeling University to offer financial assistance and make a attending a private, Catholic university even more affordable for our students."
"AEP Foundation is proud to support Wheeling University. By providing opportunities like this, students are given an environment in which to thrive in the classroom and beyond. These students are the future leaders of our state," said Joelle Moray, external affairs manager for Appalachian Power.
The $50,000 gift will be held in perpetuity, with the interest, dividends, and gains generated from this endowment used to award one scholarship annually to a student attending Wheeling University who lives in AEP service areas.
The American Electric Power Foundation provides a permanent, ongoing resources for charitable initiatives in Ohio and Marshall counties and initiatives outside of AEP's 11-state service area. The Foundation focuses on improving lives residents by providing resources for education from early childhood through higher education in the areas of science, technology, engineering and mathematics, as well as funding projects related to diversity and inclusion, and economic development.
"Wheeling University and AEP share a vision to advance higher education opportunities in our home state and the region. We prepare our graduates to enter the world of work with socially responsible goals, so they can make their communities better. Through AEP's support, Wheeling University can educate the next generation of leaders to carry out this mission," President Favede said.
–30–