June 22, 2021
Belmont College and Wheeling University Sign Transfer Agreements
Partnership provides students with the opportunity to complete the first half of their bachelor's degree at Belmont and seamlessly transfer to Wheeling to complete their 4-year degree.
St. Clairsville, OH (June 22, 2021) – Belmont College and Wheeling University signed two transfer agreements today for their Nursing and Mental Health/Psychology programs.
Upon completing an Associate of Science Degree in Nursing (ADN) from Belmont, students can seamlessly transfer to Wheeling to earn a Bachelor of Science in Nursing (RN-BSN). Additionally, students who obtain an Associate of Science Degree in Mental Health from Belmont, can now easily transfer to Wheeling to earn their Bachelor of Science in Psychology.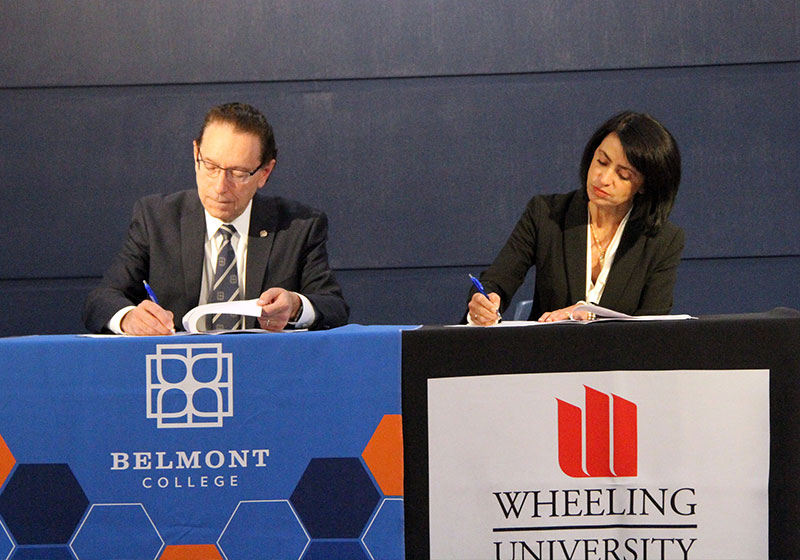 "We are pleased to partner with Wheeling University in expanding academic options for our students who wish to pursue a bachelor's degree in nursing and psychology," said Dr. Paul Gasparro, Belmont College President. "These agreements enable outstanding career paths and an opportunity for graduates to impact the health and well-being of others."
He continued. "These articulation pathways acknowledge the strong educational background that Belmont College transfer students will take with them to Wheeling University."
"We are exceptionally proud of this added partnership with Belmont College to provide students even greater options for their nursing education and career path, which will positively impact health care delivery in our local communities. We share a mutual commitment to student success and a dedication to providing high quality academic programs," said Ginny R. Favede, President of Wheeling University.
She added, "This agreement also will provide students studying Psychology a guaranteed transfer to Wheeling University to complete a bachelor's degree. This is a fantastic opportunity to quickly advance their degree and increase their earning potential. Additionally, this is a chance to build inclusive excellence while benefitting both our institutions and providing affordable pathways for student success."
Belmont College's ADN program is designed to provide an educational opportunity in which students develop a scientific basis of nursing practice and master technical skills. Under direct supervision of
qualified instructors, Belmont College nursing students experience patient interactions, in-class lectures, and hospital clinical experiences which all foster caring and empathetic approaches to nursing care.
Additionally, Belmont's Mental Health program prepares students to work with individuals and families experiencing the effects of mental health and/or substance abuse. Students in this program complete a 224-hour practicum and are qualified for the Drug and Alcohol Phase one Licensure and Social Work Assistant Credential.
Founded in 1954 to serve the needs of men and women from Appalachia, Wheeling University has been educating students to excel in their given career, so that they can serve the needs of the community. The Nursing and Psychology programs seek to educate students who will use their God-given talents to provide care to the residents of the region. Favede said, Wheeling University is proud to join with Belmont College to address the needs of the Ohio Valley.
Wheeling's BSN program integrates classroom instruction with clinical practice to prepare graduates to promote health and wellness in a variety of settings. The BSN program educates graduates for the 'real world,' and based on this philosophy, Wheeling's clinical courses are designed to give students practical experience in a variety of settings.
The Psychology program at Wheeling University helps students learn the most current and empirically sound principles of behavior to equip students for success in a variety of career settings, as well as graduate programs. The curriculum helps students realize the many ways in which psychology can address human social and ethical concerns.
####
About Belmont College: Founded in 1971, Belmont College is one of 23 community colleges in the University System of Ohio. The college offers more than 40 associate degree and certificate programs to serve the multiple needs of area citizens. Belmont offers a comprehensive array of credit and non-credit programming at the Main Campus in St. Clairsville, Ohio and provides satellite locations in Cadiz and Woodsfield Ohio. For more information visit belmontcollege.edu.
About Wheeling University: Founded in 1954, Wheeling University is the only Catholic institution of higher learning in West Virginia. Its mission is to provide a high-quality, Catholic education to the men and women of the Ohio Valley region and beyond. By integrating education, research, and economic development with classical knowledge and Christian revelation, Wheeling University seeks to equip its graduates with the critical, creative, and empathetic tools they need to pursue rewarding careers and enrich their local communities.