March 24, 2023
International Student Population on the Rise at Wheeling University
WHEELING, W.Va., March 24 — International students from around the globe are finding a home at Wheeling University, and campus officials attribute the increase to providing students with a safe environment to learn and grow.
The 2022-23 academic year has brought a large influx of students from Ethiopia, Nigeria, Congo and South America. With new students and returning students, Wheeling has about 80 international students enrolled and learning in the classroom for the Spring term, said Wheeling President, Ginny R. Favede.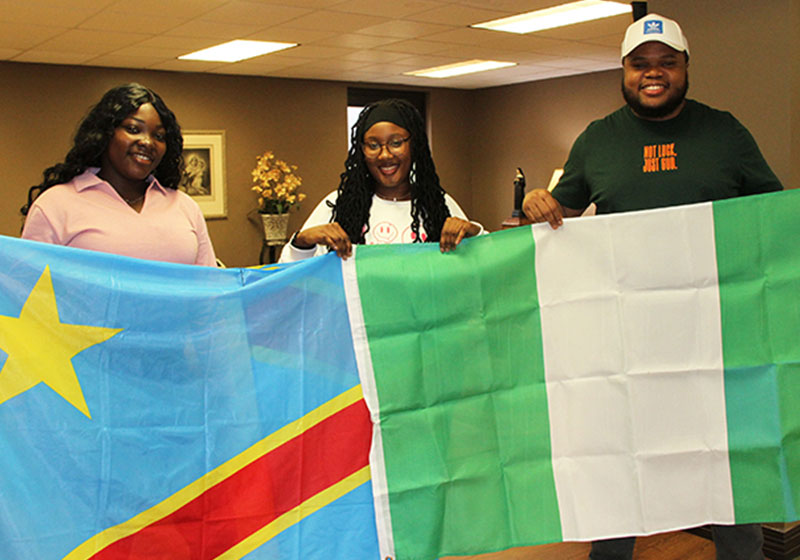 "I am so proud that students from around the world are making way to Wheeling University to seek an advanced education," President Favede said. "This is the most international students we have enrolled in about nine years, and this increase shows that we are a trusted educational institution in the international community. We have become a global home for international students, because we offer them a safe place to achieve academic success."
Jennifer Board, director of Admissions, believes Wheeling's family atmosphere and quality education are why the students are coming to the University.
"Wheeling University is known for providing students with personalized attention from the time apply to the day they graduate. The Admissions Office gives one-on-one help during every step of the enrollment process. Our Student Services Department provides services and activities once they enroll. Our professors have programs in place to assist, if there is a need, with English skills, and the Student Success Center has resources to help students excel academically," Board explained.
Students say quality educational programs were another key factor in why they chose to enroll at Wheeling University.
Hermella Demsash, a first-year student from Ethiopia, said Wheeling's reputation for offering a quality education, small class sizes and faculty committed to helping students excel in the classroom were factors why she chose the University.
"I was interested in nursing, and this university is well-known for having a good Nursing program. That is why I decided to come here. The professors I have had for class are committed and open to help their students achieve their goals. They support their students so they can succeed in their academic performance," she explained.
Another reason for the increase in the international student population, President Favede said, is a comprehensive enrollment strategy that has current students recruiting in their native countries.
Engineering major David Anayo of Nigeria, is one student assisting with recruitment efforts. Through his connections in his home country, Anayo helped recruit a number of students this year. He is working alongside Board and the Admissions' team, and he expects to help enroll "many others to come study here" in the Fall.
Board noted, "David has embraced life at Wheeling University and has become a student ambassador – spreading information about the institution with others in his country. Sharing his wonderful experience with students has made a difference in our international recruitment efforts."
Anayo said his uncle, a former international recruiter for the University, encouraged him to look at Wheeling.
"I researched a lot about Wheeling University and saw how serene the environment was … quiet and small. I found that Wheeling was a community where people love and care for each other without prejudice. I fell in love with the University and decided this was going to be my home away from home. I got accepted into two other Universities, but I chose Wheeling," he explained.
"Wheeling University gives students the opportunity to be greater versions of themselves. The diversity at this University is more than what I've seen in those 'big universities.' It's more like a family than a University. Who wouldn't want to come and learn here? … I speak for my Nigerian brothers and sisters … we love it here," Anayo added. "Wheeling University has made me what I am today. I owe all my success, thus far, to Wheeling University."
President Favede said that having such a diverse student population is beneficial to the campus population. "A diverse campus community allows students to learn about different cultures, which opens them to new ways to approach life and education. They come to better understand the customs and traditions of other countries, which makes the students more well-rounded individuals," the president added.
Board and President Favede are excited to see this increase, but plan to find other ways to grow the international student population at Wheeling University. The president's goal is for the University to become a Hispanic serving institution in the years to come.
The President added, "As a Catholic university, the Wheeling University community affirms our faith-inspired commitment to an inclusive community that is welcoming and supportive of all. We believe that a multicultural, socially just environment is essential to our students' personal growth and involvement in our increasingly global world."