October 18, 2021
Jim Regan Announces Retirement After 39 Years
Wheeling, W.Va., Oct. 18 – When he walked onto the campus of Wheeling College in the summer of 1983, Jim Regan had no idea what kind of impact he would have on the campus. Thirty-nine years and more than 500 wins later, Regan has announced his retirement as the Wheeling University Head Men's Soccer coach after the 2021-2022 academic year.
Regan will coach his final game for the Wheeling University at 6 p.m., Saturday, Nov. 6 at Bishop Schmitt Field when the Cardinals play West Liberty University. In his final game, Regan will square off against former player and his son, Sean Regan, the head coach of the Hilltoppers. Alumni and friends have been invited to attend this game to celebrate Regan's final regular season game.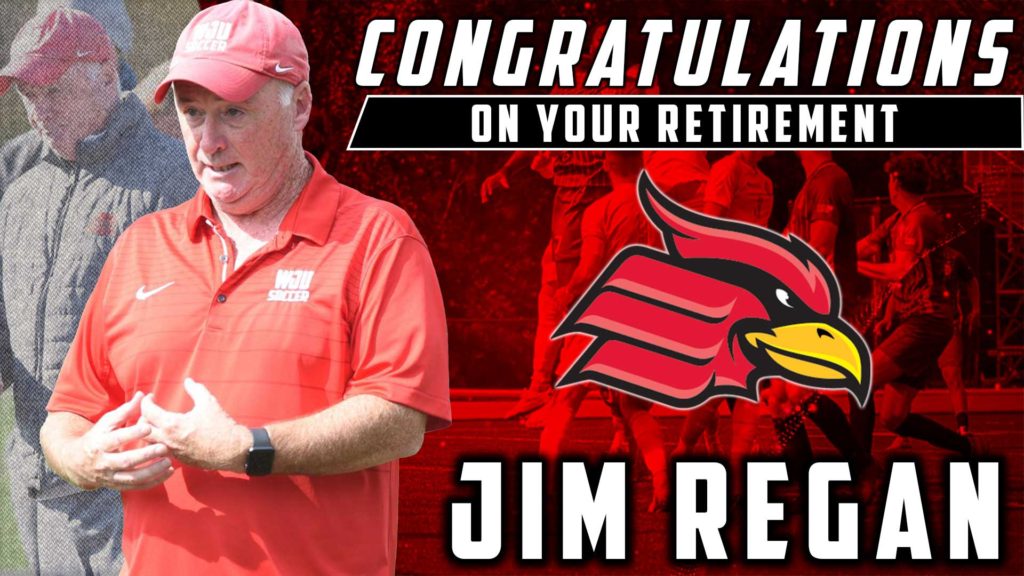 When he walked on campus in the Fall of 1983, he was just 26 years old and tasked with taking over the Men's Soccer program, which was only in its eighth year of existence. He had just finished up his studies as a Graduate Assistant and was excited to get to be the head coach of a National Association of Intercollegiate Athletics (NAIA) Men's Soccer program that was on the rise. 
"It was an exciting time for me to be a head coach at the age of 26," said Regan. "I just finished as a GA at my alma mater, Bethany College, in 1982 and we reached the D3 National Finals."
Thirty-nine years later, Regan has amassed more than 500 wins in his coaching career and has led both the Men's and Women's Soccer teams at Wheeling University. In his time as a Cardinals head coach, Regan has coached 36 All-Americans and has won five Coach of the Year awards. He has led his teams to eight district championships, seven regional championships, and four National Tournament appearances. He has impacted thousands of student-athletes and their families during that time, helping them in their transition from teenagers into full-grown men and women ready to take on the world.
One of those students impacted was current Wheeling University Athletic Director Carrie (Plute) Hanna. Hanna played under Reagan from 1992-1995 and remembers her coach as not only a great leader, but a tremendous mentor and a true friend throughout her career.
"Coach Jim Regan is a rare Cardinal treasure who over an unprecedented 39 years of service to Wheeling University, positively impacted the lives of so many students he recruited, coached and pushed to pursue excellence," said Hanna. "He always led by example, set, and upheld the highest standards, Coach Regan established a family soccer culture inspiring, connecting and supporting every member to graduate, and make a difference in the world by being men and women for others."
Regan began his coaching career at Wheeling College in 1983 when he was named head coach of the men's team. He was taking over for a program that was on the rise in its eighth year on campus. They were coming off of a 1982 season that saw them go a program-best 10-7-0 under Head Coach Jim Herlinger, and they were looking to keep the winning tradition alive under their new head coach.
Regan was able to keep that success going and led the Cardinals to an 11-6 record in his first season at the helm. He had eight All-Conference Award winners that year and two All-Americans, as he helped establish a winning tradition. Throughout his first five seasons, he led the Cardinals to a winning record in three of those seasons, and by 1987 made the team a yearly contender In the West Virginia Intercollegiate Athletic Conference (WVIAC).
With the success of the men's team, Regan had an idea at the end of the 1987 season that would help increase enrollment at Wheeling College and help give women more opportunities in athletics. He created the Wheeling College Women's Soccer team, which began its inaugural season in the fall of 1988. They played their first game on September 7th, 1988, which ended in a scoreless tie with Marietta College.
With the success of the men's team well established, Regan got the women's team off to a hot start right away. They went 10-3-3 during their inaugural season and were named District 28 and Great Lakes Regional Champions in each of their first two seasons. Then, Regan would lead that newly formed women's team to the NAIA National Championship tournament during the 1990, 1991, and 1992 seasons. In the program's first five seasons, it already had two regional championships under its belt and three NAIA National Championship tournament appearances.
Regan coached the women's program until the 2001 season when his former women's soccer player and current Athletic Director, Carrie Hanna took the reins. With the program still up and running today, Regan is proud of the legacy that he helped create of women's soccer at Wheeling University.
"I was part-time in 1987 coaching the men and working as a PE teacher at a local elementary school," said Regan. "Women's soccer was on the rise, and I saw an opportunity for Wheeling College to increase enrollment and athletic opportunities for young women."
While he was leading the women's team to National Tournaments, he was having just as much success with his men's team. His most successful season came in 2000 as the squad made its mark across Division II Men's Soccer. They became the first team in the University's history to be ranked #1 in an NCAA Division II National Poll. During that season, Wheeling Jesuit made their first-ever trip to the NCAA Division II Men's Soccer National Tournament as the #3 seed. They defeated Mercyhurst in the first round before falling to Lewis (IL) in the quarterfinals.
Since the Men's Soccer team joined the Mountain East Conference (MEC) in 2013, the Cardinals, under Regan's guidance, have made the MEC Championship tournament four times. They made it to the MEC Championship game in 2018 after defeating Notre Dame College 5-4 on penalty kicks. They would eventually fall in the MEC Championship game that season to the University of Charleston 2-0, but it was the first championship game for the program since the 2000 season.
Over his 39-year coaching career at Wheeling University, Regan has the second-most wins of any active coach behind Volleyball's Christy Benner. He holds the record for most wins as a men's soccer coach in program history and the most wins as a women's head soccer coach in program history. He was inducted into the University's Athletic Hall of Fame in 2012 for his work as head coach of both programs.
Now that he is ready to step away from coaching, he is confident that he has set the program up for success in the future. As he moves on to spend more time with his family and friends, he is excited for the future of the men's program.
"I have built a solid foundation for the next coach to build on and take the program forward in the future," said Regan.
"I am grateful to Coach Regan for his nearly 40 years of service to this University," said Wheeling University President Ginny R. Favede. His impact on the lives of his student-athletes and the sport of soccer at the college, high school and club levels is immeasurable. His greatest impact on his players is that he installed in them a passion for the game that goes beyond wins and losses – he taught them how to be successful in life. All of us at Wheeling thank Coach for his dedication to the Cardinal family and we wish him a wonderful retirement — may he spend it enjoying more time with his wife, children and grandchildren."
"I'm extremely grateful for the opportunity I have had here at Wheeling," said Regan. "The former players, parents, faculty, and community support throughout my career is greatly appreciated. A special thank you has to go to my family for their love and support throughout those years. What made it even more special was the opportunity to see all of my children play here at Wheeling."