September 28, 2022
New Health Care Simulation Equipment to Make Impact on Wheeling's Health Science Programs
WHEELING, W.Va., Sept. 28, 2022 – Students studying health science at Wheeling University this fall are using new, groundbreaking technology to study human anatomy and physiology. Wheeling recently announced the addition of the world's most technologically advanced anatomy visualization system to its Health Care Simulation Lab, and Wheeling's students now have access to this rare, innovative tool used by the top hospitals and medical facilities.
The new equipment for Wheeling's Health Care Simulation Lab was purchased through Gov. Jim Justice's Nursing Workforce Expansion Program funds. This program addresses the state's nursing shortage through a multifaceted approach to attracting, training and retaining nurses in the Mountain State.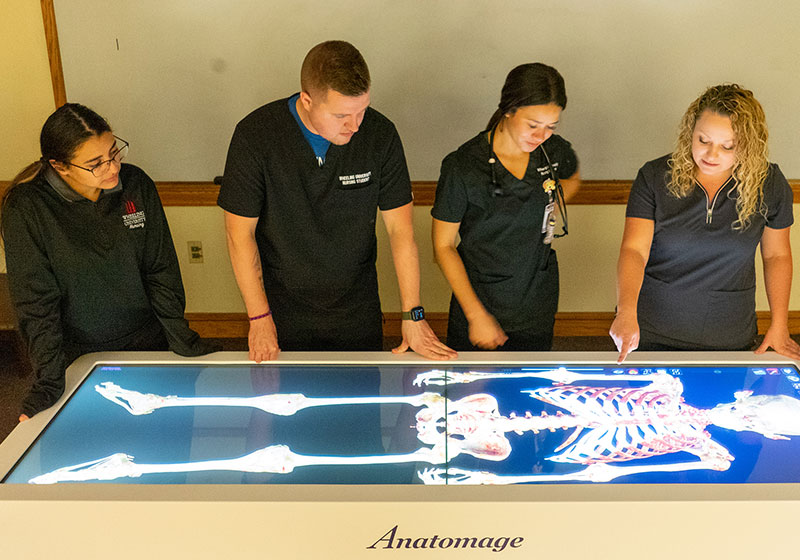 According to University President Ginny R. Favede, "The state-of-the-art equipment will immediately impact student learning. Wheeling University's students will be better trained to treat patients entrusted in their care when they graduate by giving our faculty the necessary tools. We also believe having this simulation lab will attract more students into the program, producing more health care professionals to address the critical nursing shortage."
Jill Emery, director of the Undergraduate Nursing program, said the new equipment in the simulation lab "will allow our faculty to provide life-like patient scenarios to the students so that they can gain valuable nursing skills while developing critical thinking. We will now be able to simulate hard to find clinical experiences, so our graduates are fully trained for any employment opportunity."
An Anatomage Table, the most technologically advanced 3D anatomy visualization and virtual dissection tool available today, is one of the new high-tech medical devices purchased for Wheeling's simulation training lab. Emery explained the anatomy table "will allow students to visualize anatomy exactly as they would on a cadaver, and it allows for the learning of the human anatomy beyond what a cadaver could offer. In addition, when in use, students will be able to use the tablets we purchased to view what the instructor or other students are doing with the Anatomage Table, as well as participate. Through this new technology, we are making classroom learning active learning."
Growing publications show improved test scores, more efficient class and lab sessions and student acceptance when the Anatomage Table is used in educational setting at colleges. According to the Anatomage website, thousands of structures are meticulously segmented from photographic images of real cadavers to deliver the most accurate, real 3-D anatomy, including four full body scans. The table has more than 1,000 case studies, high-resolution regional scans, full-body cat and dog cadavers and 150 other CT scans of various animal species.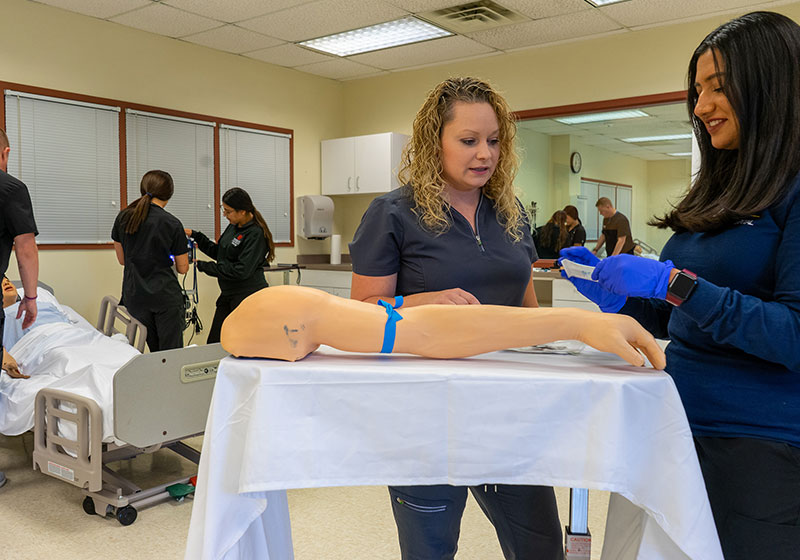 The table will be used in the Nursing Program and has interdisciplinary applications that will benefit Wheeling's Doctor of Physical Therapy, Exercise Science, and its Athletic Training programs.
President Favede said Wheeling University is one of 300 institutions nationally that has an Anatomage Table available for its students. She added, "The table is a new level of learning for current and future generations of students. The addition of the new digital Anatomage table will provide a greater understanding of both human and animal anatomy, and provide our nursing students with a strong foundation for their future medical careers."
Other equipment purchased through the grant includes two Nursing Anne simulators, two infant manikins, and a pediatric manikin that "appear incredibly realistic," Emery noted.
"Our students can use these manikins to give injections, assess lung sounds and practice giving CPR. In addition, these simulators provide our students life-like, realistic training before beginning hospital internships," she added.
Also purchased for the sim lab is a Basic Lucy maternal and neonatal birthing simulator that will allow students to thoroughly learn every step of childbirth, from contractions to delivery. "An infant warmer gives students the opportunity to train on this equipment – something many might not even have a chance to do during clinicals," Emery explained.
In addition, a Doppler package will teach nursing students to locate a pulse in the extremities. "Many times, students never touch this type of equipment until they work in a health care facility," Emery explained.
Rounding out the equipment for the simulation lab is a six-channel ECG machine which students can use to perform electrocardiograms and read cardiac rhythms; three vital sign carts; and three hospital beds that include oxygen and suction capabilities.
"Wheeling University hopes to attract, teach and graduate more nurses to help meet the health care needs of residents across our state. The new simulator equipment improves our ability to provide highly skilled nursing students to local, regional, and national medical centers. The equipment we now have on-site is not often available to students at a university our size – so having it will make an enormous impact in preparing our students to treat patients," President Favede noted.