May 20, 2022
New Master of Science of Athletic Training Program Launched at Wheeling University
WHEELING, W.Va. May 20 ­– Wheeling University has launched a new Master of Science of Athletic Training (MSAT) program, which allows students to complete their degree in just 18-months. The only Master's in Athletic Training program offered in the Ohio Valley, the curriculum will offer students a problem-based format that encourages a hands-on, team-based approach to learning.
University President Ginny R. Favede believes Wheeling will produce well-educated Athletic Trainers who will help address a national shortage in the field. Athletic Training, she said, is a fast-growing career field with many opportunities.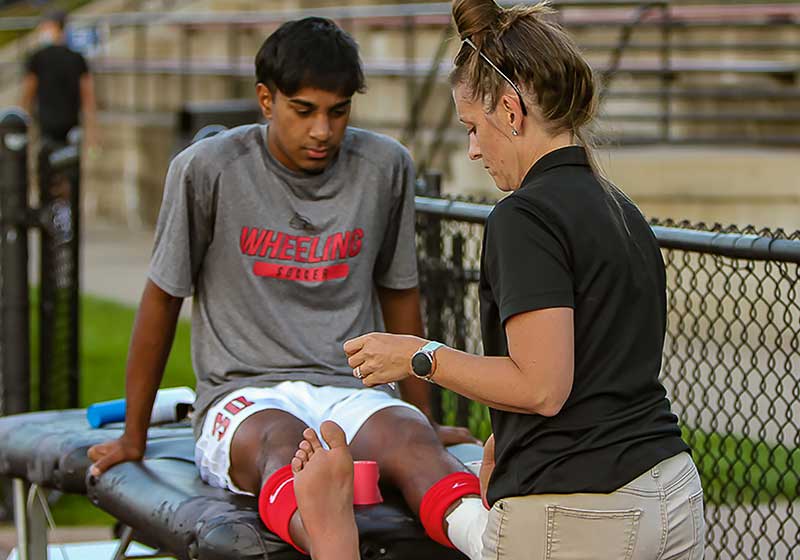 "With health care ever changing, there is a high demand for Athletic Trainers to serve in a variety of settings outside the traditional sports team related job," said President Favede. "More and more qualified athletic trainers are needed to serve patients of all ages, across many fitness and health related settings. Today, athletic trainers can be found in doctor's offices, hospital emergency rooms, sports medicine clinics, and occupational and industrial settings."
Dr. Melissa Bozovich, DPT, ATC, director of the MSAT program and assistant professor of Athletic Training, agreed that the demand for athletic trainers is on the rise. She believes Wheeling's 18-month format and the problem-based learning curriculum is what sets it apart from many others.
"Three aspects of Wheeling's MSAT program make it unique. First, the program offers undergraduates a 3+2 format, which allows the students to complete their undergraduate degree in three years and finish the master's degree in an additional 18 months," Dr. Bozovich explained. "Secondly, is the Problem Based Learning (PBL) format, which is an integrated approach where learning is student-centered with objectives driven by real-life scenarios. Lastly, Clinical Education is woven throughout the curriculum, so students are able to gain practical experience using skills they are learning in the classroom."
Additionally, Dr. Bozovich said the PBL curriculum teaches students to work in small groups focused on active learning, discussion and collaboration. "This approach to learning develops the student's critical thinking, clinical judgment and self-appraisal skills – skills that will make them work-place ready upon graduation."
President Favede said Wheeling's widely popular undergraduate Exercise Science program allows students in that major to make an easy transition into the master's program. "The MSAT program offers our undergraduate students a seamless transition and the ability to complete their degrees in just five years. In addition, Wheeling alumni will be given a 25 percent discount when they enroll."
Historically, Wheeling University, like many other institutions, offered a bachelor's level Athletic Training program in the past, which was sufficient for licensure and beginning a career.
However, as of fall 2022, students looking to earn a degree in Athletic Training will need to obtain a graduate-level degree. Key stakeholders in Athletic Training agreed that all these programs had to transition to a professional level master's degree in accordance with guidelines adopted by the National Athletic Trainers' Association (NATA) and the Commission on Accreditation of Athletic Trainers Education (CAATE).
Dr. Bozovich added, "NATA and CAATE spent two years examining what is the appropriate degree level to best prepare athletic trainers for their role in today's evolving health care system. After careful study, these two organizations decided a master's level education would provide Athletic Trainers with the best resources to serve the patients entrusted in their care. With Athletic Trainers becoming more and more integral members of interprofessional patient care, the advanced degree was the appropriate next step in their professional development."
"Athletic Training is recognized by the American Medical Association (AMA), Health Resources Services Administration (HRSA) and the Department of Health and Human Services (HHS) as an allied health care profession. Overall, this program is intended to provide improved access to health care and additional healthcare providers in the Appalachian communities that are lacking important medical resources," President Favede said.
Wheeling's MSAT program is just one of five offered in the state of West Virginia. To learn more about the MSAT program, interested students can contact Dr. Bozovich at mbozovich@wheeling.edu.