September 7, 2022
Olivia Zampedro Presented Athena Leadership Scholarship
WHEELING, W.Va., Sept. 7, 2022 – Astyr Wealth and company partner, Wheeling alumna Nikki Mullinix, have awarded an Athena Leadership Scholarship to a Wheeling University graduate student.
The class of 2022 Valedictorian Olivia Zampedro of Mentor, Ohio is the recipient of a $1,000 scholarship. The award will assist Zampedro pursue her graduate degree at the University this fall.
This marks the second Athena Leadership Scholarship the Washington County Pennsylvania company has awarded an outstanding female Business major at Wheeling University in the past year. Last Fall, undergraduate Business major Marlies Wendler was given a $500 scholarship.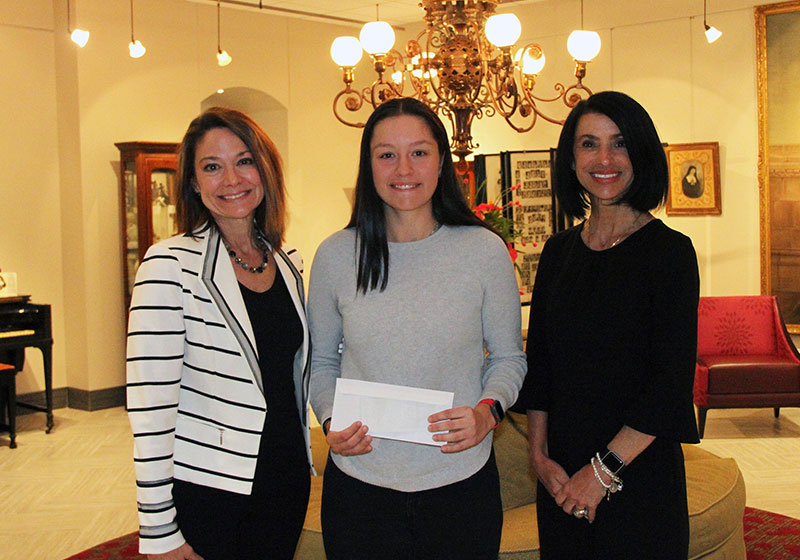 Mullinix, who earned an MBA at Wheeling in 1997, came to campus to present Zampedro with the scholarship award.
Zampedro said "I would like to thank Ms. Mullenix for this scholarship, as it will certainly assist me in my pursuit of a master's degree. I am truly honored to have been recognized as an outstanding woman business student who exemplifies Wheeling University's mission of life, leadership, and service with and among others. As the recipient of the Athena Leadership Award, it shows that others recognize my hard work in the classroom. "
Wheeling University President Ginny R. Favede is grateful to Mullenix for her commitment to the students at her alma mater.
"Ms. Mullenix is just one example of how our alumni are willing to assist today's students in their pursuit of a Wheeling University education. She is committed to helping young female business majors at Wheeling obtain a degree and succeed when they graduate. Through partnerships like this, the University is able to make a private, Catholic education more affordable for our students," the President added.
In addition to receiving her MBA from the University, Mullenix served as an admissions counselor for the adult education department at Wheeling. Her partner Mindy Zatta, an alumna at Waynesburg University, has presented scholarships to students at that institution as well.
"Education provides the foundation needed to succeed in our professional careers and in life. Our goal at Astyr Wealth is to encourage more young women to pursue a career in these fields because we (women) are a rare breed in the financial services industry," Mullenix explained. "Awarding scholarships to students at our alma maters, is a small way for Mindy and I to give back to the community, and assist female students pursuing business administration degrees."