March 9, 2022
Richard White III Journey to Wheeling University One of Growth and Endurance
WHEELING, W.Va., March 9 – When Rich White III made the decision to play football during his senior year in high school, little did he know that just four years after graduating, he would be named a 2021 Don Hansen NCAA Division II Second Team All-American.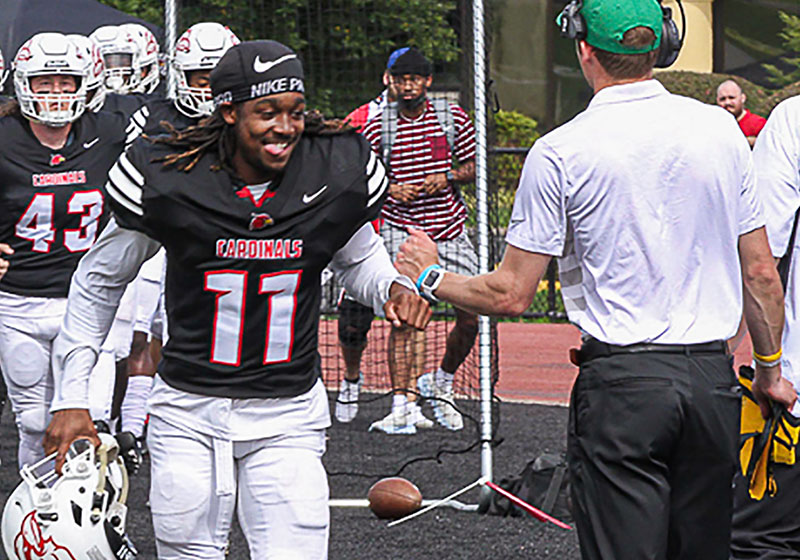 His journey from St. Edward High School in Lakewood, Ohio to Wheeling University, was not your typical path. However, White noted since arriving at the University, his journey has been one of endurance and growth. As a founding member of the Cardinal football team, White has witnessed the program's growth and his abilities develop – and he feels blessed to have the opportunity to play at the collegiate level.
White said his work ethic and execution on the field helped him earn a spot on the Hansen D-II All-American Team.
"I believe I have been playing at a high level since the 2019 season," he said. "I never thought this would happen. It is really crazy to think that we had a player named an All-American in the first four years of the program. Receiving this honor is a tribute to the coaches. They helped all of us develop over the past four years."
Prior to arriving at Wheeling, White made a decision that surprised many and could very well have impacted his future.
"I made the decision when I entered St. Ed's to concentrate on basketball. I played football from the age of six, in addition to running track and playing basketball. In my senior year (of high school), I decided to play football again. It changed my life, and made me realize I wanted to play (football) in college," White explained.
White earned a starting defensive spot as a cornerback during his final year at St. Edward's. "I really didn't know how good a player I was, and neither did our opponents. I was the unknown, and no one saw me coming."
Because he had only played as a senior, White received several 'preferred walk-on' offers for football at the Division I level. However, many college programs weren't willing to take a chance on him because they didn't have a lot of film to see how he developed as a player – year over year. He was ready to attend Florida A&M University and work hard to earn a spot on the team when a family member told the Whites Wheeling was launching a football program.
"My uncle talked to my father about Wheeling, so we decided to visit the campus and hear what the coaches had to say," White added.
His mother, Daina White, explained, "Richard was ready to commit to Florida A&M. My husband has family in Steubenville, and they had been talking to (my husband) about a school in Wheeling, West Virginia that was starting its first football program ever. It sounded interesting, but we were pretty sold on FAMU."
So, mother and son decided to drive to Wheeling for a visit – his father couldn't make the trip due to work. They liked the campus but were still thinking FAMU was the place. "Then we met Coach (Mott) Gaymon (defensive coordinator)," Daina White said. She recalled listening to the coach talk to her son about football – from skills and the position to plays and strategy. "They talked about Richard's goals, and Coach G said if our son gave him a chance, Coach would help him reach all of his goals. And, he has delivered on that promise."
After watching film of White and the way his family interacted with the staff, "he was the perfect fit for our program," Coach Gaymon said, adding White possessed great speed and ball skills.
Head Coach Zac Bruney said the program decided to offer White a spot even though he had limited reps as a high school football player. Bruney said his star cornerback was a talented player on St. Ed's basketball team – considered to be one of the best teams in Ohio. "His competitive value was very high – he played in a lot of big games on the field and court. Plus, his academics were very strong."
White explained, "Coach (Gaymon) and my uncle are the reason I picked this University. The coaches took a risk on a kid in 2018 who hadn't played the sport for six years. But they saw my potential and invested in me," White said. "The coaching staff took into account my natural God-given athletic talent, discipline, and football IQ. I am thankful for that."
Bruney and Gaymon said their defensive back is one of the hardest workers on and off the field.
"Rich is one of the hardest workers on the field, in the weight room, in the film room, and in the classroom – he's an academic All-American caliber student-athlete as well. Like most of our guys in that initial recruiting class, his growth and maturity rose each year, but Rich was a very mature young man when he arrived. He has elevated the people around him, because of his leadership," the head coach explained.
Gaymon added, "He has been a diligent student from the moment he stepped on campus. On the field, he really excels at his attention to detail with his technique. His biggest growth has been his vocal leadership among his peers. In addition to that, his maturity has allowed our program to reach new milestones along with himself."
"Relentless is the best word to describe Richard," Gaymon said. "His approach to everything he does has no bounds or limitations. In addition to his unwavering work ethic, his upbringing is a major part of his moral fiber."
Another key selling point for attending Wheeling was the fact that White would be making history as a founding member of the Cardinal football program.
"The opportunity to start something that's never been done somewhere is an opportunity that doesn't come around often. Perseverance has been the word that has described my last four years here," the All-American noted.
His mom added, "It was not a popular decision as all of his friends were accepting offers to other established teams, but there is a poem about 'the road less traveled.' Nothing about Richard's journey up until now was expected, so why not take a chance to make history?"
Mom and dad have watched their son mature during the past four years. Not only has he excelled on the field, but he has made the Dean's List every semester that he has been at Wheeling. "That is truly an accomplishment," Daina White added.
"I think Wheeling has allowed him a chance to grow as an individual and become more independent. He is a leader on and off the field – always striving to be a better person. We cannot be more proud of the young man Richard is becoming. We are grateful to the coaches and staff at Wheeling for giving him a chance," Daina White explained.
University President Ginny R. Favede agrees with Mrs. White. The president recalled a fall 2019 visit to St. Edward High School, where she learned from the school's president, James Kubacki, that White was an alumnus of the high school and attending Wheeling.
"When I returned from the trip, I sought Rich out and have kept an eye on him over the years. I could not be more proud of this young man. He is a tremendous athlete, scholar, and supportive classmate, who is always in the stands cheering on Wheeling's other athletic teams," President Favede said.
She explained that the University has an on-campus pub, Das Rathskeller, decorated with a gallery of student photos. "One of my favorites is a photo of Richard kneeling in prayer on the football field before a game. That defines Richard. He is a stellar student, a positive role model, and both possesses and demonstrates the qualities of a passionate leader," she added.
Bruney noted, "Rich is a dynamic person and has a dynamic personality. He is a dynamic student, and a dynamic athlete. He's one of the best I've ever had the pleasure to be around and coach."
When the University championed challenges, President Favede said she is grateful White stayed. That decision, she said, has provided Wheeling University the opportunity to support, educate and help mold him into the outstanding young man he is. "As a result, Richard has steered his academic voyage with great awareness, vision, and purpose."
White explained, "I just trusted in my coaches and my family and decided to stay."
The business major (with a concentration in marketing and management), said "I don't know where my life would be if I had left. It has been a blessing to attend this University and play on the Cardinal football team."