October 10, 2023
Sen. Capito Celebrates Relaunch of Wheeling's Challenger Learning Center
Wheeling, W.Va., October 10 — Today, U.S. Senator Shelley Moore Capito (R-W.Va.), a member of the Senate Appropriations Committee, traveled to Wheeling, W.Va., where she participated in events focused on education and economic development.

First, Senator Capito visited the Challenger Learning Center at Wheeling University and participated in the official relaunch of the facility's new space simulator. Senator Capito secured a $3 million Congressionally Directed Spending (CDS) award to replace the current space simulator with the newly designed facility, including a Briefing Room, Mission Control, Transport Room, and the Spacecraft; to design and deliver a girls STEM summer camp; and to develop a new Virtual Mission.

"West Virginia has a proud tradition of involvement in space exploration and the aerospace industry, and by making investments like this at the Challenger Learning Center in Wheeling, we can help make sure that tradition continues," Senator Capito said. "I am very thankful for the leadership of Wheeling University and the support from NASA to help make this relaunch possible, as well as the dedication and hard work from the staff of the Challenger Learning Center. For our youth, the journey to the stars starts right here in Wheeling."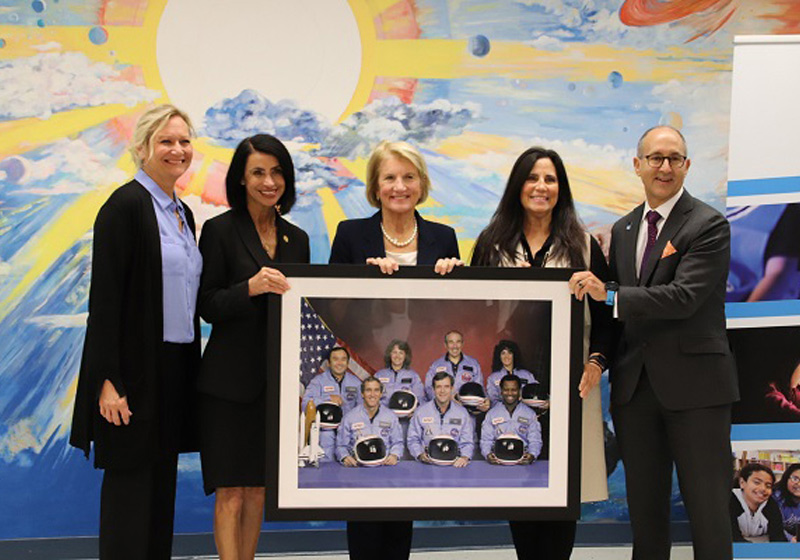 "We are so grateful to Senator Capito for her support of Challenger Learning Center at Wheeling University," Lance Bush, Challenger Center President and CEO, said. "The relaunch of the Center sets the stage for another 30 years of inspiring the students of West Virginia and building the STEM workforce of the future."
Later in the day, Senator Capito attended the Wheeling Area Chamber of Commerce Luncheon, where she provided remarks and met with business leaders from throughout the region.
"As a native of Glen Dale, it is always special to travel to the Northern Panhandle and spend time in this part of our state. The City of Wheeling has always been central to our state's economic success, and I cherish the chance to visit with business leaders and individuals who are driving development here. I'm thankful that the Wheeling Area Chamber invited me to speak at this year's luncheon, and I look forward to continuing our work with local leaders to build on momentum and keep Wheeling moving forward," Senator Capito said.