May 10, 2021
Six New Members Inducted into Wheeling University's Psi Chi Honor Society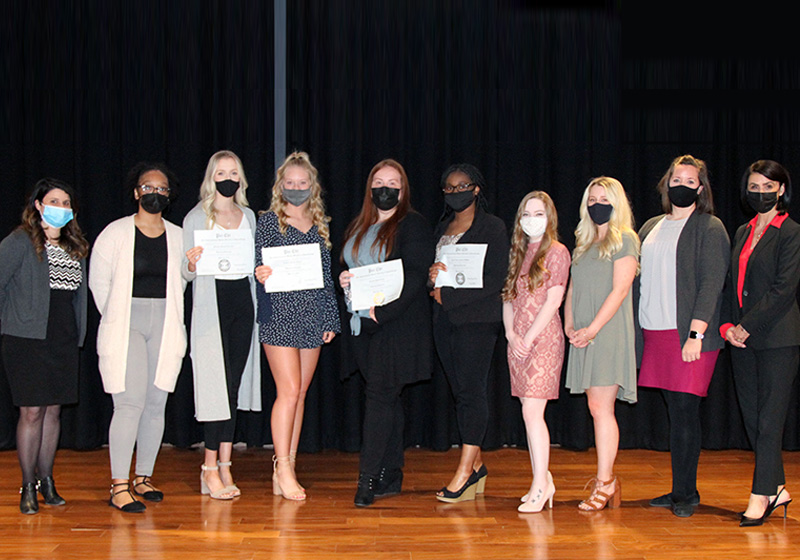 WHEELING, W.Va., May 10 — Wheeling University's Psychology Department welcomed six new members to its honor society during an induction ceremony held Thursday, April 22. 
Psi Chi, the international honor society for Psychology and the University's oldest honor society, held its induction ceremony and welcomed the 2021 inductees. Also, during the event, the honor society officially recognized the 2020 members, whose ceremony was postponed last year due to the pandemic.
Keynote speaker Teresa N. Busick, adjunct professor of Psychology, told the new members there are qualities – leadership, belief in self, and resiliency – that they have and will need to succeed in life moving forward. "Remember, you are doing all three through a pandemic … don't lose that drive you have right now. Your achievements will help you get to the next level of success."
Busick holds a B.A. in Science from Point Park University, a Master's in Mental Health Counseling from Franciscan University, and an Associate's Degree in Mortuary Science from the Pittsburgh Institute of Mortuary Science. She is currently a doctoral candidate in Psychology at Walden University. In addition to teaching at Wheeling, Busick is an adjunct at Franciscan and the Pittsburgh Institute of Mortuary Science, and she has served as a funeral director and embalmer for more than 11 years.
Psi Chi Officers, President Kyaira Jordan, Vice President Emily Thomas, and Secretary/Treasurer Katie Gamble performed the induction rite, presented membership certificates, and Psi Chi honor cords to the inductees.
The newly inducted members included Nyree'Anna Bledsoe, Amanda Jacob, Jazzmyn Pilkerton, Kylee Tolliver, Landree Wilkin, and Mikayla Yarwood. The 2020 members included: Elexis Brown, Justin Frenn, Katie Gamble, Kyaira Jordan, Cassidy McCord, Emily Thomas, Nicholas Vento, and Abigail Witucky.
Wheeling University President Ginny R. Favede said, "This achievement marks a major milestone along your educational path. The past year has been difficult, navigating through it has been no easy task, yet you faced the challenge, and persevered to be here today being honored in this ceremony for your high achievements."
The honor society's mission is to encourage excellence in scholarship and advance the science of psychology. Psi Chi membership is open to students majoring or minoring in psychology at an institution with a chapter. Additional membership requirements include: completion of nine credit hours of psychology courses; a cumulative GPA in the top 35 percent of their academic class or the college that houses psychology; and have a minimum 3.0 GPA average for psychology courses.