November 17, 2022
Wheeling and Alderson Broaddus Partnership to Produce More Physical Therapists
WHEELING, W.Va., Nov. 17 – Wheeling University and Alderson Broaddus University have entered into an articulation agreement that will allow AB undergraduates seeking an advanced degree in physical therapy to make an easy transition to Wheeling's program.
Recently, the two institutions established a partnership where Wheeling University's Doctor of Physical Therapy program will accept at least two Alderson Broaddus students each year, given they meet the course requirements and prerequisites.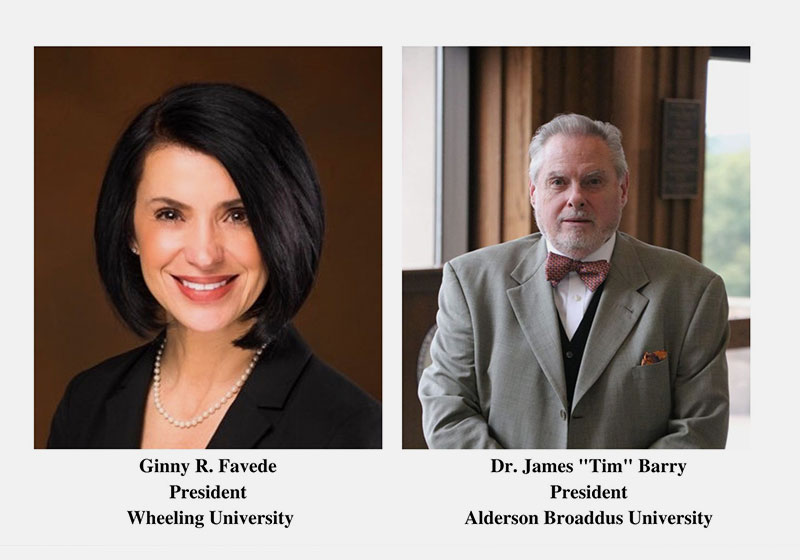 "Wheeling University is pleased to partner with Alderson Broaddus University and looks forward to welcoming well-qualified students into our outstanding DPT program. Establishing this agreement will result in more physical therapists being educated to serve the residents locally, as well as across West Virginia and the region," said Ginny R. Favede, president of Wheeling University.
AB President Dr. James "Tim" Barry said, "This program continues our cooperative relationship with Wheeling University and enhances the opportunities for students from both universities to continue their educational studies at the graduate level."
Alderson Broaddus is the third West Virginia institution to establish an articulation agreement to allow students to apply and seamlessly transition to Wheeling's DPT program. To be eligible for acceptance into the program, AB students must meet specific qualifications and course prerequisites. Some of those include:
An overall cumulative undergraduate grade point average of 3.3 on a 4.0 scale or higher;
A grade point average of 3.3 on a 4.0 scale or higher in the required prerequisite courses, which include, but are not limited to: BIO 124/125, BIO 325/326, BIO 302/303, BIO 328/334, CHEM 110/111, CHEM 112/113, PHYS 101/110, PHYS 102/111, PSYC 101, MAT 160 Higher level courses may be substituted for lower-level courses in the same area.
A minimum grade of B in each required prerequisite course
"This partnership between Wheeling and AB helps both institutions educate and produce more well-trained physical therapy professionals who will, in turn, provide high-quality care to patients they serve upon graduation," said Dr. Alison Kreger, PT, DPT, Ed.D., director of Wheeling Doctor of Physical Therapy program.
Provost and Executive Vice President for Academic Affairs, Dr. Andrea Bucklew added,
"Alderson Broaddus University and Wheeling University both share a strong commitment to student success. We are so pleased to join in this partnership which provides an additional pathway for both universities to provide exceptional academic opportunities to our students."
Wheeling University's DPT program emphasizes a whole person approach to the investigation of clinical issues using a Problem-Based Learning (PBL) format. PBL encourages teamwork, open discussion, and researching appropriate resources to acquire essential didactic knowledge.
Through this unique learning format, Wheeling's physical therapy graduates demonstrate exemplary professionalism, exceptional skills, and problem-solving, as well as the ability to access and utilize knowledge, reflective of a commitment to life-long learning, Kreger explained.