July 8, 2021
Wheeling University Adds Women's Varsity Rugby
WHEELING, W.Va., July 8 – Wheeling University President Ginny R. Favede has announced the addition of women's rugby, an NCAA emerging sport, to the school's varsity athletics program. The announcement raises the college's number of varsity teams to 20.
Wheeling Head Men's Rugby Coach Michael Geibel will serve as the head coach of the women's program. The team will begin competition in Fall 2022 and play in the National Collegiate Rugby (NCR) Open.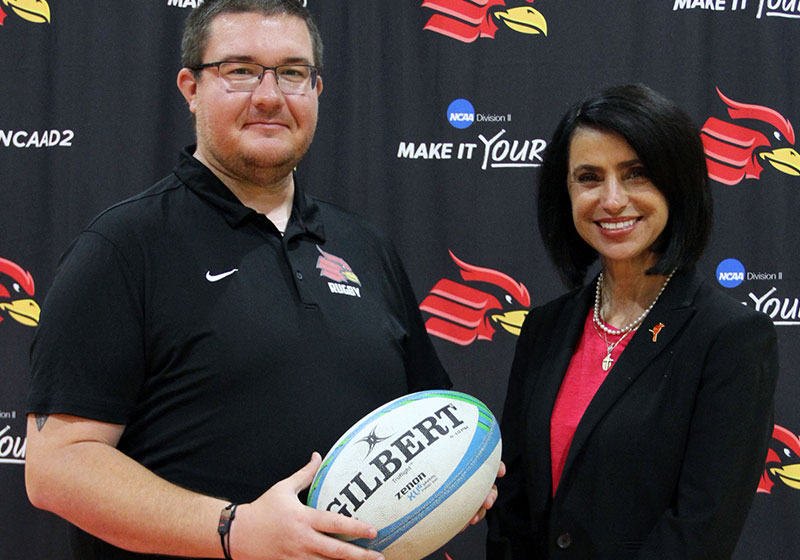 "This market will open doors to a whole new generation of women who can benefit from our Catholic education and increase participation opportunities for women in our NCAA programs," shared President Ginny R. Favede
"I am very excited to start the women's team at Wheeling University," Geibel said. "I am grateful that this organization values the women's side of rugby as much as I do and has made it possible to grow the women's game in the United States through another varsity offering."
Prior to taking the reins of the Wheeling program in 2019, Geibel spent six seasons coaching the women's team at Eckerd College in St. Petersburg, Florida. Three of Geibel's former players Stephie Franz, Ally Gallagher and Emerson Allen have made their mark in rugby on the national and international levels. Franz represented her home country of Jamaica in the Central American & Carribbean Games in 2018. Gallagher represented USA on the Falcons 7s team in Hokkaido, Japan. Allen is currently in the USA Rugby training camp "Daily Training Environment" in Glendale, Colorado.
"When I was hired in 2019, one of the priorities that I spoke about in the interview process was building a program that has both men's and women's teams with equal opportunity," Geibel added. "I am thankful to President Favede for helping this vision come to life."
"This is an exciting opportunity for our University and supports our increased focus on opportunities for female students and women's leadership development," said Favede. "I've
been inspired by the dedication and outstanding achievements of our students this year, in the classroom, in residential life and on the field. By bringing more of the best and brightest female student-athletes from across the country to our campus, new programs like women's rugby advance our goal to build on our successful Cardinal athletic programs."
"Our mission is to educate the whole student, and we do that through the development of mind, body and spirit," Favede said. "Athletics are certainly an integral part of our mission in educating the whole person. Providing new opportunities for students in the classroom and on the field of play remains a priority for the Wheeling University. Rugby is a welcome addition to our menu of women's athletics opportunities and continues to show the support the University has for athletics."
The NCAA identifies women's rugby as one of five sports on its "Emerging Sports For Women" list, which intends to help schools provide more equal athletics opportunities. The other four sports are women's acrobatics, equestrian, triathlon, and wrestling.
The addition of another women's sport allows Wheeling to remain in compliance with Title IX guidelines, allowing more female athletes to participate in varsity athletics.
Part of the mission of Cardinal Athletics is to provide quality academic and athletic experiences in order to meet the diverse needs of its student-athletes. The Wheeling University Athletics Department contributes to the institutional mission of Educating for Life, Leadership and Service with and Among Others by instilling in its student-athletes the confidence, support, encouragement and training to succeed in the classroom and on the playing fields. The addition of women's varsity rugby is part of this growth process for the University and meets the Wheeling University 2021-2025: Journey Forward Together strategic plan of increasing enrollment at the institution by sponsoring additional varsity programs.
"There are a lot of talented high school players in the United States and around the world looking for a place to play high-level rugby in college, and Wheeling can be that place," Geibel said. "Only a few dozen schools offer scholarship assistance for women's rugby, and that puts Wheeling in a great position to recruit and compete at the highest level of collegiate rugby."
"Our academic programs and beautiful campus add to the draw for top talent, and we are in a good place geographically to bring in players from some of the top high school rugby states in the country," he added.
Recruiting for the team has also started. Prospective student-athletes are encouraged to contact Coach Geibel at mgeibel@wheeling.edu for more information or complete a recruiting form here.