September 3, 2021
Wheeling University DPT Capstone Projects Impact Student Learning and Patient Care
WHEELING, W.Va., Sept. 3 — Research by students in Wheeling University's Doctor of Physical Therapy program (DPT) is an important part of their educational journey, which can influence treatment plans and protocols for patients they treat.
Recently, Wheeling's DPT students presented their capstone projects, which are the culmination of two and half years of study and research on a specific area of interest. Presentation of capstone projects was the final step of on-campus work for the 32 students before they began their final clinical education experiences.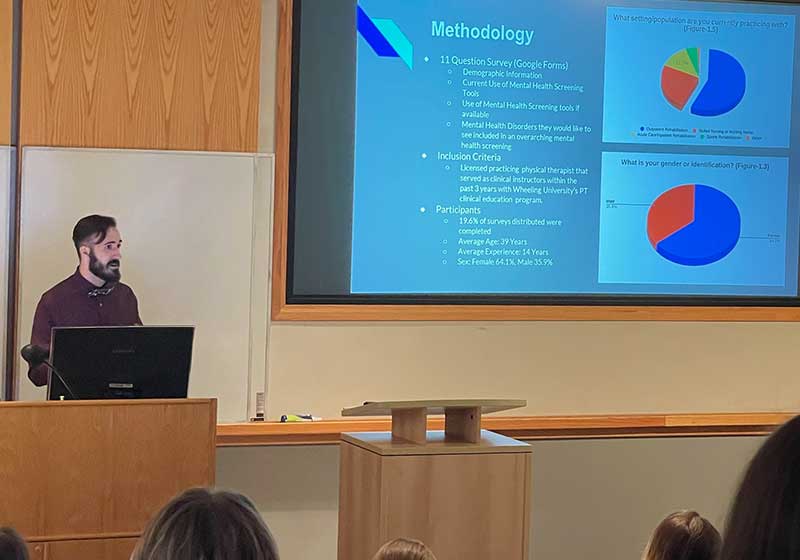 "Participation in research is a key component of the Wheeling University DPT program, because our profession seeks evidence that therapeutic interventions have been proven and appropriate for patients," said Dr. Alison Kreger, director of the DPT Program and clinical associate professor of Physical Therapy. "With increased emphasis on evidence-based practice, one of our priorities is to provide students in our program the chance to work closely with a faculty mentor on research projects. Presentation of their scholarly work before their peers is another key part of the process."
During a day-long exhibition, the students presented 19 different projects to faculty members, staff and fellow students. "The projects may take the form of experiments, reviews of current literature, case studies of patients, or the evaluation of various treatment options," said Dr. Bryan Raudenbush, professor of Physical Therapy – Neuroscience and Research. "At Wheeling University, we are educating students to be life-long learners, so they need the ability to be intelligent evaluators of research data. A physical therapist, who knows how to evaluate statistics and determine good research studies from bad, will be a better therapist for their patients."
Research is an important part of the DPT students' educational journey, Raudenbush said, because it validates physical therapy services, provides information on the effectiveness of treatment options, improves patient care by making intelligent clinical decisions based on research findings and provides answers to questions from patients and the physical therapists.
The DPT students, Raudenbush said, are given the opportunity to work with a faculty member on projects that overlap the students' and mentors' interest. With 12 faculty members, each having their own area of specialization, students have a wide range of opportunities from which the choose a research topic, he explained. Some of those areas of expertise include: pediatrics, neuroscience, geriatrics, rehabilitation, orthopedics/sports, interprofessional education, pharmacology and service learning.
Students begin working with faculty to decide what they may – or may not – be interested in researching during their first week in the program. The project that a student undertakes may take the form of experiments, review of current literature, case studies of patients or evaluations of various treatment options, Raudenbush said. "We are educating students to be life-long learners, so they need the ability to be intelligent evaluators of research data. Engaging in a capstone project provides them a real world research experience."
Students Justin Kinkead and Trevor Wade, along with faculty mentor Dr. Kristine Grubler, clinical associate professor of Physical Therapy, studied the "Effects of Caffeine on Muscle Strength, Tibiofemoral Joint Range of Motion and Pain in Individuals Following Total Knee Arthroplasty."
Kinkead and Wade decided to pursue the topic because caffeine is used widely in athletic settings to improve muscle performance, but there is minimal research regarding its application in clinical settings.
"Research suggests that caffeine does produce positive effects to muscle performance, so it has a potential to be beneficial for patients who have experienced a total knee arthroplasty, as these individuals typically experience deficits in this area. In this population, strength deficits may have significant implications to daily activities, which warrants investigation into means of addressing them," Kinkead noted.
The students' research found pre-exercise caffeine supplementation did not provide further benefit to quadriceps muscle strength, knee joint range of motion or pain reduction in patients rehabilitating from a total knee arthroplasty. Kinkead and Wade suggest that additional research is necessary to confirm the findings.
Wade said, "Doing this capstone project is beneficial to our careers, because it helps us to understand the research process and continue to make evidence-based clinical decisions. Our findings, provide useful information that could be discussed with patients, who are seeking to accelerate the recovery process."
Their faculty mentor, Dr. Grubler explained the capstone projects are the culmination of "the thread of research courses that are required of each student." These courses, which are spread throughout the curriculum, allow "students to learn the philosophy behind scientific and clinical research, and their importance in evidence-based practice as future clinicians."
Additionally, Dr. Grubler said the capstone research helps students develop oral and written communication skills, the ability to think critically, and add to the scholarly knowledge within the field of physical therapy.
"In addition to their on-campus presentations, our physical therapy students are given the opportunity to present their doctoral research projects at state, national and international levels, as well as publish their results in professional journals. Their research can have an impact on physical therapy protocols and treatments, which can have a significant impact on patient care," Kreger noted. "The research our students conduct while in the program is both a necessity and obligation of Wheeling University's Doctorate of Physical Therapy students and faculty as it solidifies our mission to be life-long learners."