October 5, 2023
Wheeling University Homecoming Activities Set for This Weekend
WHEELING, W.Va., Oct. 5 – Wheeling University will welcome parents and alumni to campus this Friday, Saturday, and Sunday to celebrate and enjoy Homecoming and Family Weekend events. The highlight of the weekend will be the crowning of the Homecoming King and Queen on Saturday.
The Homecoming Court will be announced during an on-field ceremony at halftime of the Wheeling University vs. WV Wesleyan football game at 1 p.m. on Saturday at Bishop Schmitt Field. The Wheeling University Homecoming Court is an annual tradition that recognizes exceptional members of the Wheeling student body. The homecoming court is selected through a multi-stage process, including a nomination slate and a vote by the student body. The Homecoming King and Queen will be selected from a pool of five queen and five king candidates.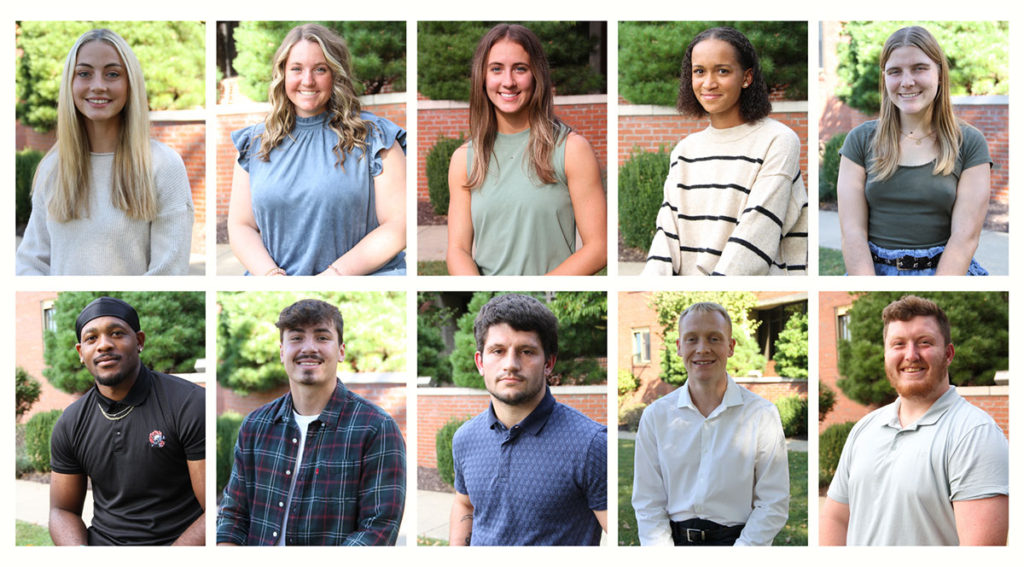 The students elected to this year's court are: Cassandra Feyh; Zayna Hampton; Keala McCurry; Delaney Miller; Eva Tolliver; Izaiha Browning; Bailey Brunner; Joseph Iye; Jose Oltra; and River Pappas.
Cassandra Feyh is a senior Nursing major and Psychology minor from Ashville, Ohio. She is a member of the Student Nursing Association and a member of the Women's Softball team. Following graduation, Cassandra plans to work as a registered nurse at Nationwide Children's Hospital in Columbus and hopes to enter a physician assistant program in the future.
Zayna Hampton is a senior Secondary Education major from Hilliard, Ohio. She is a resident assistant and a member of the Women's Soccer team. After completing her degree, Zayna plans to return to Hilliard to find a teaching and coaching position at a local school.
Keala McCurry is a senior Elementary Education major from Miamisburg, Ohio. She is a resident assistant, president of the Campus Activities Board, Kairos Rector and Campus Ministry leader. Keala plans to enter the Master of Educational Leadership program at Wheeling University following graduation.
Delaney Miller is a senior Education major from Carroll, Ohio. While at Wheeling, Delaney has been a member of the Track and Field team, the Education Club and served as a Luceat. Following Commencement, Delaney plans to teach middle school history and return to college to seek a master's degree.
Eva Tolliver is a senior Exercise Science and Biology major from Mascot, Tennessee. She is a Cardinal Track and Field team member, active in the University's Theater Guild and President of the Student Government Association.
Izaiha Browning is a senior Criminal Justice major from East Liverpool, Ohio. He is a member of the Men's Track and Cross Country teams, and participates in the campus Bible Study group, Kairos, SGA Senate, and the Student-Athlete Advisory Committee. Izaiha plans to enter the West Virginia State Police Academy following graduation.
Bailey Brunner is a senior Business Administration major from Baltimore, Maryland. He is a member of the Cardinal Rugby team. His future plans are to sell cybersecurity software to protect computers around the world.
Joseph Iye is a senior Athletic Training major from Three Rivers, South Africa. He is a member of the Athletic Training Club, a resident assistant, and is on the Rugby team. Joseph plans to use his degree to help other athletes have a full athletic experience and declare for the major league rugby draft.
Jose Oltra is a senior Business major from Valencia, Spain. He is a member of the Cardinal Rugby team. Jose's future plans are to seek a master's degree in Finance.
River Pappas is a senior Education major from Steubenville, Ohio. He is a member of the Wheeling Wrestling team. River plans to become a teacher and coach after graduation.
Additionally, the Homecoming Court Junior Royalty includes: Junior Class Representatives; Mady Winters, Jade Miller, Chylyn Pate, Trey Brady, Will Gabbert, and Mitchell Park. Sophomore Class Representatives; Brianna Perry, Melia Gorrell, Marra Johnson, Tazion Wallace, Aaron Davis, and Alex Godavitarne. Freshman Class Representatives; Chyla Miller, Grace Mummery, Camden Black, Lamar Scott, Phillip Murray, Jr., and David Taravella.
"We are thrilled Homecoming and Family Weekend has arrived; spending time on campus is an important part of our alumni and Cardinal family's lives, and I am honored to invite them to join us for this exciting weekend," said Ginny R. Favede, Wheeling University president. "The Wheeling University community looks forward to having alumni, students, families, and friends of the university join us for a meaningful and festive weekend filled with sporting and social events."
Friday's events include the President's Welcome Reception and the Women's Volleyball game versus Notre Dame College.
Saturday, there is disc golf, campus tours, Love Letters to Students, a home football game against WV Wesleyan, a Volleyball match against Slippery Rock, and Men's and Women's Soccer games against the University of Charleston. On Saturday morning, the President's Red Zone Tailgate will feature live music by the Easy Street band, inflatables, and Meet the Team tents.
The weekend wraps up Sunday morning with breakfast and Mass in the Chapel of Mary and Joseph at 11 a.m.
For a complete schedule of events, go to the University's website.