August 23, 2021
Wheeling University nursing students awarded scholarships from WVU Medicine Wheeling Hospital
WHEELING, W.Va. – For the second consecutive year, WVU Medicine Wheeling Hospital has awarded two scholarships to nursing students at Wheeling University. This year's scholarships went to Amanda Keister of Washington, PA, and Kiera Vietmeier of Follansbee.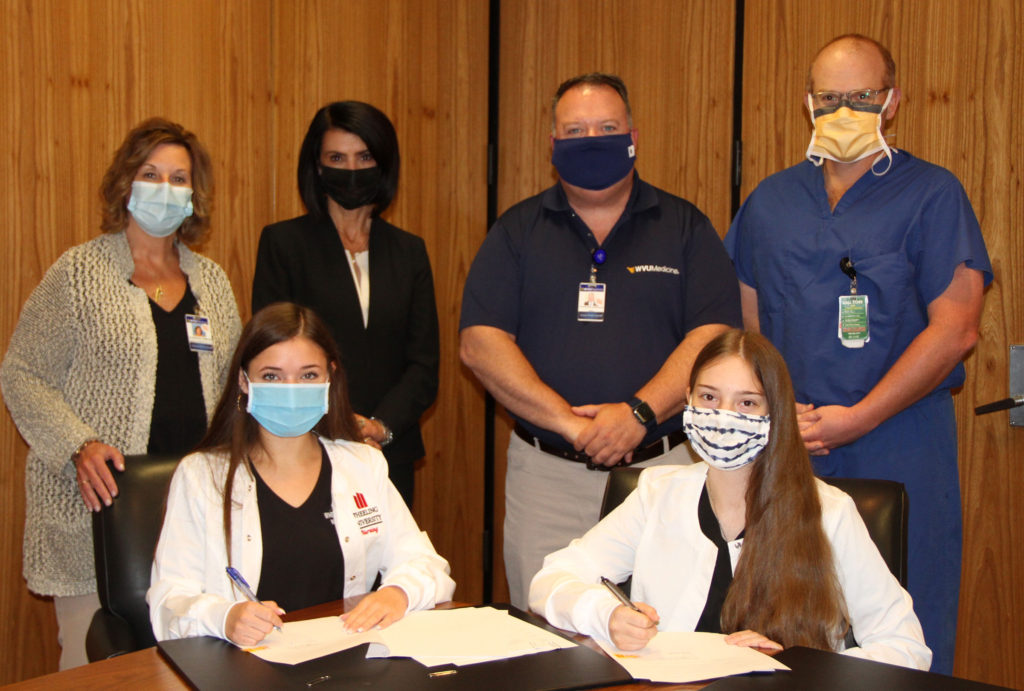 The two-year scholarships are awarded to sophomores to cover full tuition their junior and senior years. After graduation, the students will be hired as Wheeling Hospital nurses and remain there for at least three years.
"It is WVU Medicine Wheeling Hospital's privilege and honor to offer these scholarships," Douglass Harrison, hospital president and CEO, said. "We are fortunate to have the resources and nursing schools around us. Hiring more nurses is a national issue, and it's good to get more youth involved."
Wheeling University President Ginny Favede said, "WVU Medicine Wheeling Hospital and Wheeling University share a mission to help the residents living in this region. Through our shared missions, this partnership between WVU Medicine Wheeling Hospital and Wheeling University is educating nurses to serve the needs of residents in our community. This collaboration also allows both of our institutions to address the healthcare personnel shortage plaguing the Appalachia region. We are grateful that the hospital is making an investment in our students and our University."
"Congratulations to Kiera and Amanda," Gail Nickerson, director of Nursing at Wheeling University, said, "I am grateful for our partnership with WVU Medicine Wheeling Hospital and the benefits this collaboration affords our students. This scholarship is a wonderful opportunity for our nursing students to stay local and give back to our community upon graduation."
In Keister's application essay, she wrote, "As a nurse, my skills and knowledge will always be needed. Even in today's age of growing technology, my job would never disappear. Plus, new medical technologies and techniques are still being discovered and developed. As a result, I would have a career filled with lifelong learning."
Vietmeier wrote, "When researching the career, I found that the need for healthcare workers will continue to grow; therefore, there will always be jobs available, which is something that is important to me. I also wanted something fast-paced … where I will learn something new every day
"I want to help people as much as I can. I chose nursing not for the money or title, but for the duties that come with it."
Kareen Simon, hospital vice president and COO, said, "We are very excited to provide the nursing scholarships to Wheeling University. It is very important to contribute to the future of nursing , both as a program and individually, especially now as a result of a nursing shortage. Our support to not only these students but the university is a huge asset to the community. Our goal is to support the new generation of nurses and enhance their education and employment at WVU Medicine Wheeling Hospital."
The scholarship recipients are selected by a committee that includes representatives of the university and the hospital.
Photo cutline: Signing their two-year WVU Medicine Wheeling Hospital nursing scholarship agreements are Wheeling University (WU) students Kiera Vietmeier, left, and Amanda Keister. With them are, standing from left: hospital Vice President and COO Kareen Simon, WU President Ginny Favede; hospital President and CEO Douglass Harrison; and hospital Critical Care and Cardiac Services Director Bryan Woodford.