July 14, 2021
Wheeling University Professor Releases New Book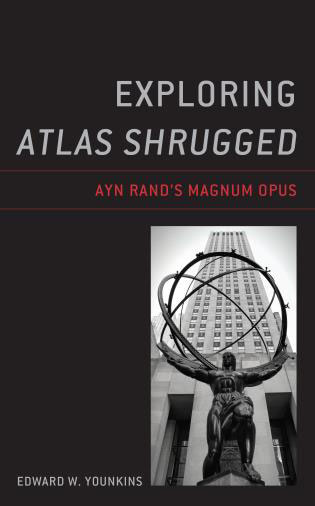 WHEELING, W.Va., July 14 – A new book by Wheeling University Professor of Accountancy, Dr. Edward Younkins, offers an in- depth analysis and greater understanding of his favorite novel, Ayn Rand's "Atlas Shrugged." 
In his book, "Exploring Atlas Shrugged, Ayn Rand's Magnum Opus," Younkins explains how Rand's novel, "Atlas Shrugged," is one of the most influential books ever published and its impact on a variety of disciplines including philosophy, literature, economics, business and political science. He analyzes the novel's integrating elements of theme, plot and characterization from many perspectives and on many levels of meaning.
When asked why he decided to publish this book he replied, "I have written many articles, essays, and book chapters on "Atlas Shrugged" over many years. Writing this book gave me the opportunity to explain, combine and expand on the ideas found in these earlier publications. In addition, my new book provides a source where one can find all of my ideas and insights about this great novel in one place."
The chapters in this book offer fresh insights to both new readers, and to scholars who have studied Rand's masterpiece over many years, he said. It is also a valuable resource for teachers and students who use "Atlas Shrugged" in their classes.
Each chapter of this multidisciplinary book explores how "Atlas Shrugged" relates to specific thematic areas, such as philosophy and literature, economics, business, social change and Rand's 'Philosophy of Objectivism.' Over the years, Younkins has written numerous articles and book chapters on "Atlas Shrugged," and these written pieces are the basis for his newest book. Dr. Younkins also explains in his writings how "Atlas Shrugged" expounds a radical philosophy, presenting a view of man and man's relationship to existence, and manifesting the essentials of an entire philosophical system of metaphysics, epistemology, politics, and economics.
"In the Fall of 2002, I began using "Atlas Shrugged" in my undergraduate and graduate courses. I have used it every year since in my undergraduate Conceptual Foundations of Business course along with my book, "Capitalism and Commerce," Dr. Younkins said, a 1970 alumnus of Wheeling University.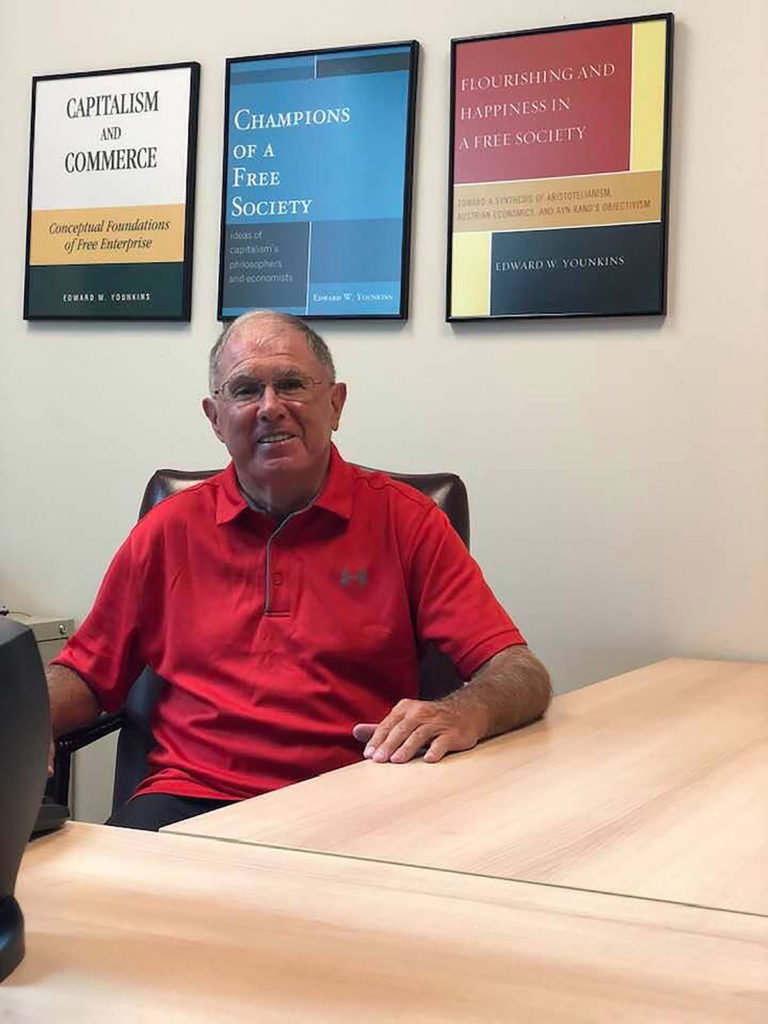 He noted that using "Atlas Shrugged" in his class led to the University receiving a $700,000 grant in 2006 from BB&T to establish Wheeling's Institute for the Study of Capitalism and Morality. Younkins serves as grant administrator and is executive director of the Institute.
"BB&T required the use of "Atlas Shrugged" in a course in order for a college to be eligible for a grant. I was already using it in my Conceptual Foundations of Business course. The grant has been used to bring in speakers, fund the writing of books, journal articles and research projects, purchase books, pay for attendance at conferences, and fund student organizations and essay contests – all dealing with free market capitalism," Dr. Younkins added.
In 2007, he edited and contributed to a book called "Ayn Rand's Atlas Shrugged : A Philosophical and Literary Companion," which was a celebration of the 50th anniversary of the 1957 release of "Atlas Shrugged." Thirty-six different scholars contributed to this collection.
Since 2000, Dr. Younkins has written or edited and contributed to 11 books in the area of political and economic philosophy. Included among these works are his trilogy of freedom and flourishing: "Capitalism and Commerce," "Champions of a Free Society" and "Flourishing and Happiness in a Free Society."
"Engaging in research and scholarly work keeps our faculty in tune with advances in their academic disciplines, helps them keep pace with their subject matter, while allowing them the freedom to incorporate their research into their pedagogy to benefit their students," said Wheeling President Ginny R. Favede. "Dr. Younkins' writings, as well as the scholarly work by other faculty, supports our mission to instill in our students a thirst for learning. Through his book, Dr. Younkins shows he embodies the University mission – to be a life-long learner himself."
"Atlas Shrugged" is a dramatization of Rand's unique vision of existence and of man's highest potential. The underpinning theme of the novel is the role of the mind in human existence. In addition, there are several inextricably related subthemes including: reason and its connection to freedom, the importance of a free and independent mind, the integration of mind and body, good versus evil, the nobility and morality of business, and the evils of collectivism and self-sacrifice. In the novel, Rand examines a number of questions: Is the pursuit of profit a noble enterprise or the root of all evil? Is reason an absolute or is faith an alternative source of truth? Is self-esteem possible or are we consigned to a life of self-doubt and guilt? In what kind of society can an individual prosper, and in what kind of society is he doomed to the opposite fate?
Younkins book will be released on July 15. The publisher, Lexington Book, is offering a 30 percent discount for those using the code LEX30AUTH21.