December 7, 2021
Wheeling University Student Awarded Scholarship
WHEELING, W.Va., December 7 – A Wheeling University Business major is the recipient of a scholarship from a Washington County Pennsylvania investment firm, Astyr Wealth and company partner – Wheeling alumna Niki Mullinix.
Marlies Wendler, a junior Business major from Gardnerville, Nev., was the recipient of a $500 scholarship from the company earlier this semester. In addition to excelling in the classroom, Wendler is a member of the Cardinal Volleyball team. She was chosen by members of Wheeling University's Business Department faculty to receive the scholarship.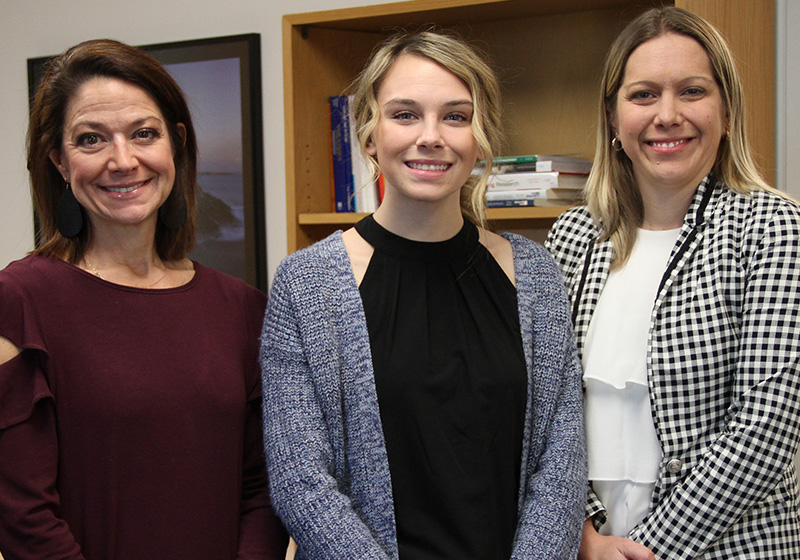 Wheeling graduate Niki Mullinix '97, a private wealth advisor with the company, awarded the scholarship during the 18th annual Washington County Chamber of Commerce Athena Award Ceremony held in September.
Wendler said, "I am thankful that Astyr Wealth and Niki Mullinix provided me this scholarship. This award gives me additional financial support to attend Wheeling University, while showing that my hard work in the classroom does have rewards."
Wheeling University President Ginny R. Favede said, "Wheeling University is grateful to Astyr Wealth and Ms. Mullinix for providing this scholarship opportunity to Marlies. I have known Niki for many years and respect her desire to invest in her alma mater. More importantly, is her commitment to assist young female, business majors obtain a degree and succeed when they graduate. Through partnerships like this, Wheeling is able to make achieving a private, Catholic education more affordable for our students."
In addition to receiving an MBA from Wheeling in 1997, Mullinix was an admissions counselor for the adult education department at the University. She and her partner, Mindy Zatta, an alumna from Waynesburg University, award scholarships to a students at each institution each year, and present them at the chamber's event.
"Education provides the foundation needed to succeed in our professional careers and in life. Our goal is to encourage more young women to pursue a career in these fields because we (women) are a rare breed in the financial services industry," Mullinix said. "Awarding the scholarships to students at our alma maters, is a small way for Mindy and I to give back to the community, and recognize a female student pursuing a degree in business administration, accounting or finance. We want to support and encourage more women in the business world, because we know what an incredible difference they can make in the field."
Dr. Neeley Satzer, associate professor of Business and chair of the Business Department at Wheeling, is grateful to Mullinix for providing the scholarship to Wendler and her investment in Wheeling University.
"This partnership/scholarship is a wonderful opportunity to recognize a female business student that has great potential upon graduation. Also, this is a way for an alumna to give back to her alma mater, and helps us maintain a positive relationship with our alumni. Hopefully, this gift by Astyr Wealth and Wheeling alumna Niki Mullinix will inspire other graduates to partner with the University to offer scholarships to our students," Dr. Satzer added.