April 12, 2023
Wheeling University Students Set to Perform One-Act Comedy April 17-18
Wheeling University students will perform a one-act comedy at 8 p.m. on April 17 and 18 on the Troy Theater stage.
Two Wheeling students, Jenay Soumahro and Eva Tolliver will serve as student directors for the Spring productions. Dave Henderson of Oglebay Institute will oversee the presentation of the play.
"Eva and Jenay have been instrumental in Wheeling's theater presentation for the past several years. They have recruited some very talented students to be a part of this program," Henderson said. "This performance will feature some students that have never performed, as well as some that have performed on the WU stage in the past. It's a great mix of talent that will be sure to delight all those who attend."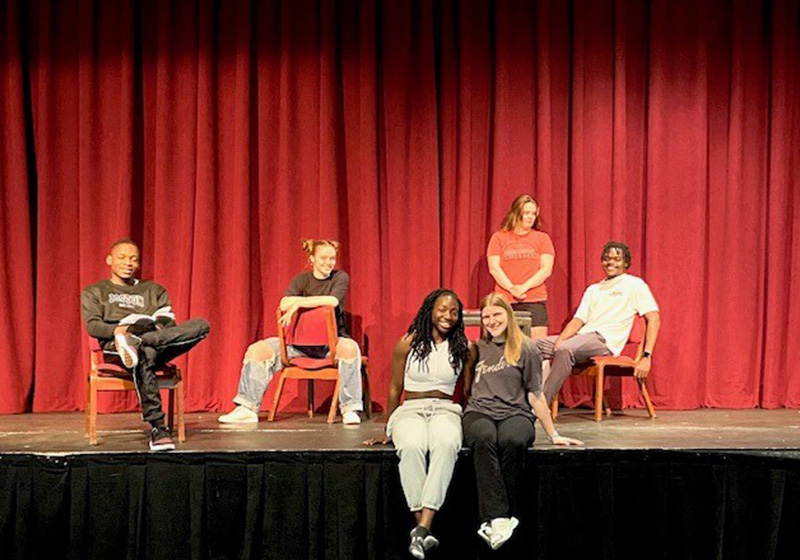 Four University students will bring to life For Whom the Southern Belle Tolls by Christopher Durang. In this one-act parody of The Glass Menagerie, the fading Southern belle Amanda tries to prepare her hyper-sensitive, hypochondriac son, Lawrence for the feminine caller. She tries to face everything with "charm and vivacity," but sometimes she just wants to hit somebody.
The cast for this play is: Salem Mwelwa as Lawrence; Divine Chikaeze Alum as Tom; Olivia Moyer as Amanda; and Sophia Tomana as Ginny. This production is presented by special arrangement with Broadway Licensing LLS.
Mwelwa, Soumahro and Tolliver are veterans of the Wheeling University Theater Guild. The trio has performed in several productions in the past, most recently last Spring's One-Act Plays "The Funeral Parlor, 1-900 Desperate, Canker Sores and Other Distractions and DMV Tyrant."
Admission is free, no reservations required to attend Wheeling University's theater productions.