August 25, 2023
Wheeling University Welcomes New Students, Prepares for 2023-24 Academic Year
Wheeling, W.Va., August 25 – Wheeling University officially welcomed its incoming class to campus Friday – a group that is 28 percent larger than a year ago.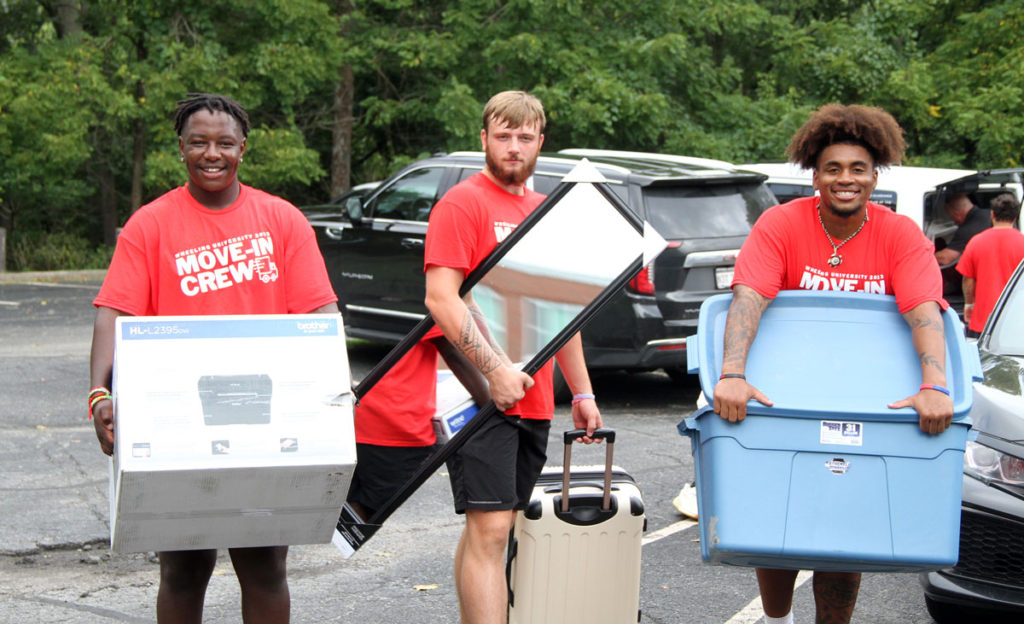 New and upper class students from across the country and around the world are returning to the campus for the start of the 2023-24 academic year. Friday was the launch of Wheeling University's New Cardinal Days, and the campus once again hosted its annual Move-In Day, when members of the University community – students, faculty, coaches and staff – helped the new students move into the residence halls. 
"Wheeling University is excited to officially welcome all of our new students to this community. This weekend is our opportunity to introduce our new Cardinals to our mission and the larger Wheeling area when they participate in their first service project. These young men and women come to Wheeling from right here in the Ohio Valley, as well as from across the country and around the world. Also, we are glad we could help 21 students from Alderson Broaddus make an easy transition to our University. We wish all of our students – new and returning – great success this year," said Wheeling President Ginny R. Favede.
President Favede said the Admissions team continued its strategic recruitment efforts again this year – focusing on local, regional and international students. As a result, Wheeling's incoming class includes students from 23 states and 21 countries. The largest groups of new domestic students are from Ohio (62), Maryland (33), West Virginia (30) and Pennsylvania (16).
Additionally, 49 new international students arrived at Wheeling University from nations around the globe, including; Brazil, Canada, Congo, Ethiopia, Germany, Ghana, Indonesia, Jamiaca, Morocco, Netherlands, New Zealand, Nigeria, Norway, Philippines, South Africa, Spain, Sweden, United Kingdom, Venezuela, Zambia and Zimbabwe.
The president added that the University remains committed to recruiting international students because "having a culturally diverse campus enriches the University community and prepares students to work in today's global society."
President Favede said Wheeling also continues to focus on students from the local area. New students have made their way to the University from the following local high schools: Buckeye Local, Buckeye Career Center, John Marshall, Linsly, Martins Ferry, Meadowbrook, Monroe Central, River, St. Clairsville, Steubenville, Swiss Hills, Tyler Consolidated, Union Local, Weirton, Weirton Madonna, Wheeling Central Catholic and Wheeling Park,
"Our Admissions counselors worked hand-in-hand with the faculty and coaches to recruit a group of students who we believe will be successful while at Wheeling University. Our personalized approach to student recruitment is why we continue to see our enrollment numbers climb. The addition of Nic Kjaerholt as our international recruiter has been a great benefit, because he not only assisted these students through the admissions process, but will now offer support to the students when they arrive," said Jennifer Board, director of Admissions.
The New Student Convocation Friday evening celebrates the new class's formal induction to Wheeling University. It is also held to celebrate the start of the academic year, similar to how Commencement serves as the culmination. The Convocation ceremony features faculty and administration in academic regalia, who officially greet and formally accept the students into the University's learning community. The event will feature greetings from President Favede, Vice President for Student Services Andrew Lewis, Interim Vice President of Academic Affairs, Dr. Jackie McGlade, Faculty Representative, Dr. Brian Raudenbush, professor of Physical Therapy and Student Government President Eva Tolliver.
Saturday, the new students will participate in the University's annual Make a Difference Day, where they undertake service projects around the city of Wheeling. The Office of Student Services coordinated with various community partners, where the students will go to work on projects. They will help the following agencies and organizations: Catholic Charities; Catholic Neighborhood Center; Laughlin Memorial Chapel; Grow Ohio Valley; Mount St. Joseph; Ohio County Animal Shelter; Wheeling Soup Kitchen; and The Welty Home.
"This annual tradition introduces our new students to Wheeling's mission, and what it means to be a person in service to others," said Andrew Lewis, vice president for Student Services. "Make a Difference Day also gives our students the chance to learn more about the city of Wheeling and bond with classmates before the start of classes."
Following Make a Difference Day, the Class of 2027, student leaders and staff are invited to the 2nd annual Back to School Pig Roast sponsored by Rev. Carlos Melocoton and the parishioners of St. Michael's Parish.
"I am grateful to Fr. Carlos and his congregation for once again hosting this wonderful cookout to welcome our new students to the greater Wheeling community. This event gives our students the chance celebrate with their classmates, as well as meet members of the local community," President Favede said.
A number of activities are scheduled for new and returning students on Saturday and Sunday before the start of classes on Monday, Aug. 28.
Wheeling University remains the only campus-based Catholic institution of higher education in West Virginia. According to the Association of Catholic Colleges and Universities (ACCU), Wheeling is one of only 12 diocesan-sponsored universities in the United States. In addition to Wheeling, those other institutions include; Carroll College, Catholic Distance University, Donnelly College, Gannon University, Loras College, Mount St. Mary's, Seton Hill University, St. Ambrose University, St. Thomas University, Thomas More University, University of Dallas and the University of St. Thomas (M.N.).