September 9, 2022
WVU Medicine Wheeling Hospital Managers Complete Wheeling University Healthcare Leadership Academy Training
WHEELING, W.Va. Sept. 9 – Eleven managers from WVU Medicine Wheeling Hospital recently completed the Wheeling University Healthcare Leadership Academy (HLA), designed to train the hospital's managers to become transformative leaders in the workplace.
During the 12 weeks of instruction, the managers from several departments gained knowledge, skills, and tools to build a highly reliable, performance-based managerial culture at the hospital. This is the third group of Wheeling Hospital managers who completed the University's Healthcare Leadership Academy. The Healthcare Leadership Academy launched last fall.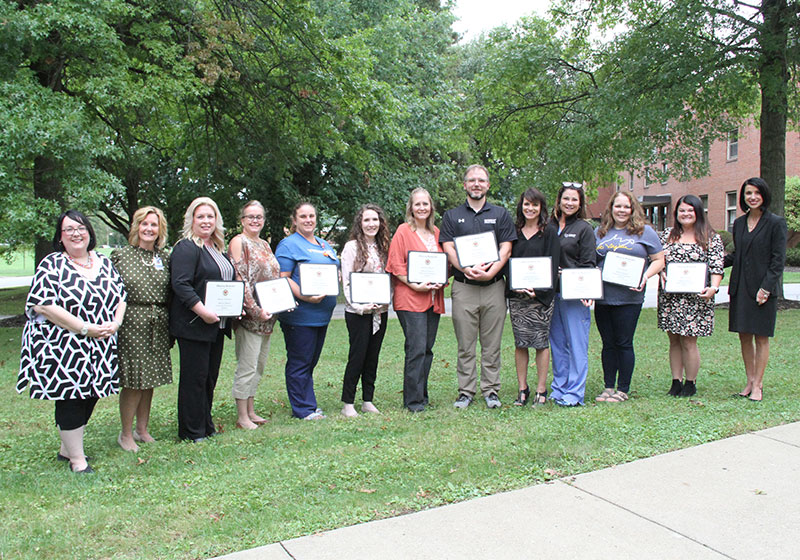 WVU Medicine Wheeling Hospital managers who participated in this year's HLA include, Trisha Bush, Wendy Cook, Tracy Eberhard, Jenna Fauber, Bonnie Funkhouser, Shelby Horton, Kasee Porter, Shelly Sargent, Harmony Shepard, Ryan Shirley and Kelly Wright.
"Wheeling University is happy to train WVU Medicine Wheeling Hospital managers once again on how to become better leaders in health care delivery," said university President Ginny Favede. "During their 12 weeks of training, the employees were provided instruction empowering them to become transformative leaders in the workplace. Through this partnership, we are enhancing the hospital's leadership and operations, which ultimately improves health care services to the residents of the Ohio Valley."
Kareen Simon, vice president and COO of WVU Medicine Wheeling Hospital, said, "As we continue to partner with Wheeling University, we are grateful to collaborate on the development of our future healthcare leaders. WVU Medicine Wheeling Hospital focuses on leadership every day, and this program allows us to enhance or provide the training, education, and leadership skills on what is needed to be a healthcare leader. This is a true community partnership between two organizations that both have the same goal to continue to develop education opportunities for our Leadership team and the community that will positively impact our hospital operations.
Facilitator of the academy was Amy Smith, an adjunct instructor in Wheeling University's Business Department.
"The students were wonderful to work with each week," Smith said. "They were devoted to learning and using their knowledge in their positions at Wheeling Hospital. Each is a valuable member to the hospital team. They should be commended on their hard work and dedication."
During the Leadership Academy, the hospital managers discussed what makes an organization high reliability and how to achieve that level in the healthcare industry. As part of this section, the employees learned how mindfulness helps staff stay focused and how being aware of possible failures can improve operations.
–WU–