May 24, 2022
Cardinals Name Anna Kowalska New Head Women's Basketball Coach
Wheeling, W. Va. – After an extensive coaching search, the Wheeling University Athletic Department has announced the hiring of Anna Kowalska as the new Head Women's Basketball Coach on Monday. She becomes the 13th Head Coach in program history and takes over a Wheeling team that made it to the Quarterfinals of the Mountain East Conference (MEC) playoffs last season. Kowalska brings with her 10 years of college basketball coaching experience as well as experience playing at the Division I Junior College and NCAA Division I level, where she won All-American and All-Academic honors during her time.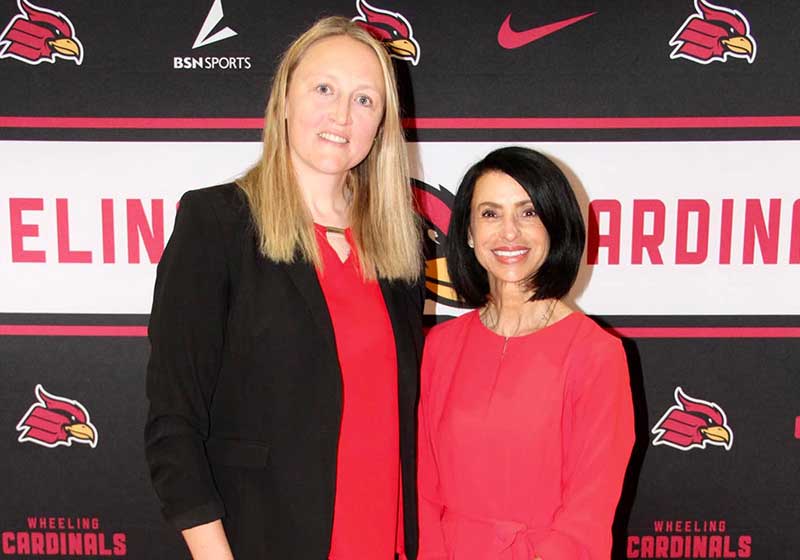 Prior to joining the Wheeling University Women's Basketball team, Kowalska served as the Head Women's Basketball coach at Life University for the 2021-2022 season. She took over a program that went just 2-14 the year before and helped to establish a winning culture on the court with a four-win improvement. Throughout the year, they competed in the top NAIA conference and battled against the #3 and #5 teams in the nation as well as the reigning 2022 National Championship team in NAIA. She led her team to the 2022 Mid-South Conference (MSC) Playoffs and set them up for success for years to come.
While her team saw success on the court, she also put a strong emphasis on academics, and that showed in the student's performance. She helped raise the team GPA above the 3.0 mark during the 2021-2022 academic year. Kowalska emphasizes the importance of strong academics to go along with a winning program and is excited for the opportunity to establish a winning culture both on and off the court at Wheeling University.
"I want to thank President, Ginny R. Favede and Director of Athletics, Carrie Hanna for giving me this opportunity," said Kowalska. "I am humbled and blessed to work for great leaders and great people. The family atmosphere, the community, and the bright future of this team really drew me to Wheeling University. This is a very proud moment for me, and my family and I cannot wait to get started. GO CARDINALS."
Prior to her time at Life University, Kowalska spent eight seasons at the West Virginia University Institute of Technology, where she served as an Assistant Women's Basketball coach from 2013-2018 and Head Women's Basketball Coach from 2018-2021. Over her three seasons at the helm, the Golden Bears combined to go 61-26 overall and 41-4 in River States Conference play. She helped lead her team to two Regular Season Conference Championships and was a two-time qualifier for the NAIA D2 National Tournament.
"Anna is an excellent basketball coach who shares our philosophy of education for character and mission," said Wheeling University President Ginny R. Favede. "They say that when you know, you know, and when I met Anna (Kowalska) I knew instantly she was the right coach.  Her faith, commitment to excellence, and the way her catholic values align with Wheeling's made her the perfect choice. In addition, Anna's passion for the game and her commitment to developing our players into outstanding women who will contribute in so many ways in life as they leave Wheeling is incredibly important to me. She embodies who we are and who we aspire to be – as a University, as an Athletics Department, and as a championship-caliber women's basketball program."
Prior to her coaching career, Kowalska played NCAA Division I Basketball at Kent State University, where she was named an All-American and First Team All-Conference player. However, just as she emphasizes academic success from her players, she was also a strong student off the court, being named an All-Academic Student-Athlete during her time with the Golden Flashes.
Wheeling University Athletic Director Carrie Hanna is excited to welcome Kowalska into the Cardinals Family and looks forward to seeing her lead the Wheeling Women's Basketball for the foreseeable future.
"Anna Kowalska is a proven leader who will high standards and expectations on the court, classroom, and community," said Hanna. "We are thrilled to have her join our Cardinals family at the helm of the Wheeling University Women's Basketball program."