February 22, 2022
The Intelligencer: Ginny Favede says God intended for her to lead Wheeling University
This feature appeared in the Feb. 22 The Intelligencer'/Wheeling News-Register's Faces of Progress section, and is posted with the permission of the newspapers.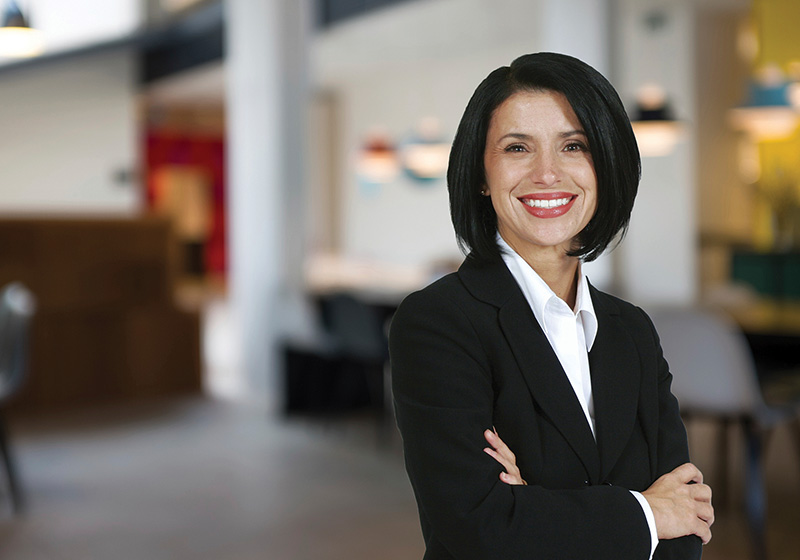 WHEELING – Ginny Favede believes being one of 10 siblings helped prepare her to become president of Wheeling University.
Favede, who was appointed to the position in October 2019 and previously served as chairman of the board of trustees, is originally from the Dayton, Ohio, area.
"I am the youngest of 10, which has been crucial in almost every position I have held professionally, but most beneficial in my role as president of Wheeling University.
"When you're from a large family, you're taught to take care of one another and that everyone has a job and is expected to contribute," she said. "Here, we talk a lot about our Cardinal Family and take that responsibility to one another very seriously. It has been vital in our ability to turn this university around. I am a Wheeling resident and can be found on our campus night and day."
Favede and her husband of 29 years, Lee Favede, were college sweethearts and haven't parted since their very first date. Lee Favede is an optometrist with a practice in Bridgeport. They have two children, Cecelia and Frankie.
"Cecelia and Frankie were born and raised in the Ohio Valley and grew up playing both rec and high school sports in the area. They are both Linsly alumni. I share this, because being a parent of two active kids has given me a deep appreciation of the wonderful community we are fortunate to be a part of," Favede said.
"Their involvement in sports has had me courtside or in the stands of every field and school in the valley at some point. Cecelia recently graduated from OSU College of Medicine and is in her second year of pediatric residency at the University of South Carolina.
"Frankie graduated from Otterbein University this past summer and is currently working on an MBA at Wheeling University. He's currently a member of the Wheeling University Baseball team and a graduate assistant in the Athletic Training Department."
Favede's philosophy on business includes having passion about what you're doing.
"I have been fortunate enough in my professional life to have my career driven by my personal mission of service to others. This passion for helping others has carried me throughout my career," she said.
"It has been essential for me to have the opportunity to be in a position where I can make a difference. I am at my best when the work is driven by passion. It's served me well and has always fueled my drive and guided my decisions during difficult times. I have always believed an essential element in business and leadership is knowing who you are and your convictions."
Her background includes stints as a St. Clairsville City Council member, a Belmont County commissioner and at the helm of Project BEST.
Her philosophy on life includes helping and loving others.
"I believe our purpose in life is to make good things happen for the people in our world — those you love, those in your community, and those beyond it. I believe in the value of hard work and honesty," she said. "I believe your life won't be well-spent unless you positively impact those around you. Human activities are limited by time and death. But we forget this.
"We waste our time with distractions, never asking whether they are important or whether we really find them of value. I believe in taking the time to do for others, to love and care deeply for one another and our shared world.
"I believe in knowing what makes you happy and finding a way to make a living out of it. For me, I love people, and I love helping others."
Favede said she feels blessed to have been chosen to lead the university.
"There has not been a moment in the last two and a half years where I haven't felt truly blessed to be on this campus with its amazing Cardinal community," she said. "I have found myself frequently sharing over the past three years that I now know what it means to be called. This is where I am supposed to be. This is where God intended me to be."
Favede said what makes Wheeling University stand out from others is that its approach to education has never been confined to a classroom.
"Since 1954, Wheeling has given its students opportunities to grow – through traditional learning models, experiential experiences, internships, community service, and faculty-guided research," she said. "Allowing them to grow academically, morally, spiritually, and personally into bright, educated, caring people equipped to go out into the world to effect change and live a life of service to others.
"Our mission is woven into every aspect of university life – not just for our students but our faculty and employees. We feel we have an obligation to instill in our students a sense to be lifelong learners, leaders on and off campus, and to serve others."
Favede said the school community believes in "social responsibility and the transformative power of a liberal arts education."
"Our longstanding values of faith, service, and kindness are the hallmark of a Wheeling University education. At Wheeling University, we prepare our students to enter the world, be engaged and involved in their communities, and to use their God-given talents not just for personal fulfillment but in service to others," Favede said.
Favede said her goal for the university is to continue to provide a quality liberal arts education for its students.
"We believe the liberal arts prepares students to make a living and make a life worth living. Our goal is to remain an institution of higher learning, committed to the education of the whole person in mind, body, and spirit," she said.
"To grow our programs while addressing the needs of our community's workforce, we will continue to invest in healthcare as part of our mission to address the people of the Appalachian region. Wheeling has always been known for its nursing and its doctor of physical therapy programs, which prepare our graduates to be leaders in providing cutting-edge care."
She noted the school has added more than 12 professional certificates as well, which addresses the fact that there is a variety of students on campus.
Favede said she is most proud of the university's employees and its students.
"This place draws these amazing human beings because it is special. Because it is unique. Here, we talk about family. Here, we believe in family. We believe we are our brother's keeper," she said. "Yes, the university has seen its share of tragedies, but we believe it is not what happens to you that defines who you are, but how you react to it is the true judge of character.
"The people of this campus community are the backbone of this institution. The employees and students love this place.
"It's inspiring to be among Wheeling's students, witnessing their resiliency in the face of a global pandemic while still excelling in the classroom and in athletics has taught many of us that our young people, our students, have the tenacity and grit that can and will allow them to change the world."