August 2, 2022
Liberty Energy Solutions LLC Announces Campus-Wide Installation of the Energy Saving Tune Filter System at Wheeling University.
Wheeling, WV, Aug. 2, 2022 – Today, Richard Peluchette, President of Liberty Energy Solutions LLC, longtime Distributor of the Tune® filters announced a partnership with Wheeling University to promote the Tune Filter to Catholic Parishes and Universities around the country.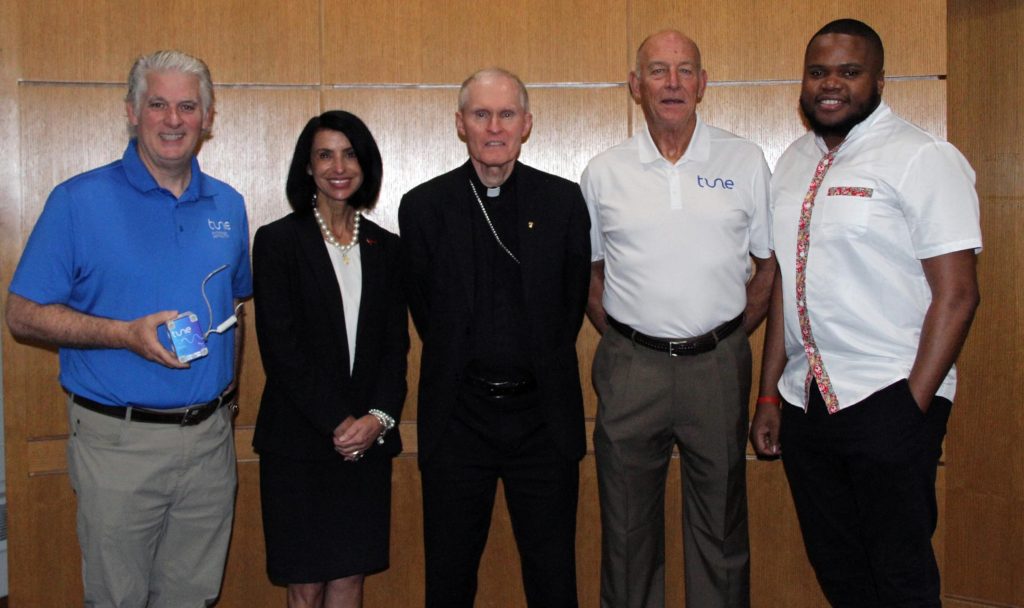 Wheeling University is recognized by Tune as the first university in the country to test the Tune technology. A Pilot program was implemented by WU and Ret. COL. Robert A. Yahn, Asst. Professor for Engineering. The year-long Pilot was a Capstone Project for graduating senior engineering students. The kWh usage results were calculated from WU's AEP monthly electric bills and compared year over year. The Tune filter helped Wheeling University reduce kWh usage by 12.5% in the 110,000 Sq. Ft. McDonough Center on the campus of WU, saving the university thousands of dollars per month. Based on these results and many other Case Studies from around the country, Wheeling University made the decision to do a campus wide rollout of the Tune Filter. Tune also recognizes Wheeling University as the first university in the country to do a campus wide Rollout of the Tune technology.
Wheeling University President, Ginny R. Favede said, "Wheeling is grateful to be affiliated with this very worth project. This effort fulfills our Catholic sustainability mission put forth by Pope Francis's encyclical 'Laudato Si',' which calls on each of us to care for our common home—planet earth. The reduction on kWh usage and utility costs ties directly into our environmental sustainability goals while reducing our operating costs considerably. Wheeling University is committed to respecting the earth and acting on our duty of stewardship toward nature, and the Tune filter program allows us to act upon that commitment."
Tune® creates passive inductive filters that mitigate currents from non-linear loads out of the electric panels within buildings, using no electricity in the process, and reducing electrical usage by a minimum of 5% each month, with many reducing between 15%- 25%.
Sustainability is one of Wheeling University's key values, as they look to transform their campus into a more responsible space and provide opportunities for students to reduce their carbon impact and participate in events that are carbon conscious.
"Sustainable practices are taking hold across the country," said Peluchette. "Responsible companies, government agencies, schools and universities are increasingly looking at the environmental impact of their decisions. Tune® filters are one of the ways we are helping our customers with those decisions, reducing the environmental impact at our customers facilities with filters that consume no energy, and in fact, reduce their energy consumption."
"We are grateful to Wheeling University President Ginny Favede and to Bob Yahn for their incredible efforts, as well as Most Rev. Mark Brennan, bishop of the Diocese of Wheeling-Charleston," said Jim Owings, Founder and Developer of Tune® filters. "WU's results helped Virginia Commonwealth University make the decision to Pilot in their Engineering and Sciences Building. The VCU Pilot results showed a 10% reduction in cost, thus, aligning with the Wheeling Universities results. Since then, we have interest from major universities, gov't agencies, private and public corporations, not only from around the country but around the world!"
"We are announcing a program aimed at helping Catholic Parishes and Universities reduce energy costs but also parents and friends of the Schools. We created the WU10 Program where any Catholic Parish, College or University goes to our website, Libertyenergysolutionsllc.com and clicks on the WU10 is automatically eligible for a 10% discount from us. Our Friends of WU Program extends this to Friends, Parents and others interested in reducing their energy costs as well as their carbon footprint and damage to the environment".
Tune® filters are helping Wheeling University meet their aggressive goals by reducing the energy consumed on campus and prolonging the life of electronic equipment and appliances. Tune® makes this possible by addressing a problem you may not have heard of – disruptive noise, otherwise known as harmonics. Disruptive noise in your electrical system wreaks havoc, increasing energy consumption, producing heat, and placing undue stress on equipment. Without any fanfare, the Tune® filter addresses this problem.
Innovative in its design, the Tune® filter uses time-tested electric principles and electrical components. However, it applies these components in a new way. Through a patented process, its inventors discovered a way to capture and filter disruptive noise. Initially created to reduce heat and protect electronics in data centers, the team found that their filters also reduced energy consumption. With this discovery, they realized this product had the opportunity to create lasting environmental impact, reducing our reliance on natural resources.
To learn more about Liberty Energy Solutions LLC and Tune® Filter, click here.
Tune®Filters
Tune®, LLC is the manufacturer of a patented filter designed to reduce electricity consumption and prolong the life of electronics. Tune® customers typically see consumption savings between five and fifteen percent or more, and many report reductions in equipment maintenance. The filter technology mitigates the disruptive noise (current harmonics) introduced into an electrical system by computers, LED lighting, and many other lower voltage electronics. Tune® filters are UL-listed and validated as an energy-saving product by third-party testing using U.S. Department of Energy standards.