April 22, 2022
Ohio State Trooper, Martins Ferry Native Chase Watts To Serve as Wheeling University Commencement Speaker
WHEELING, W.Va., April 22 – Veteran law enforcement officer and Ohio Valley native Chase Watts will be the speaker during Wheeling University 64th Commencement exercises Saturday, May 7.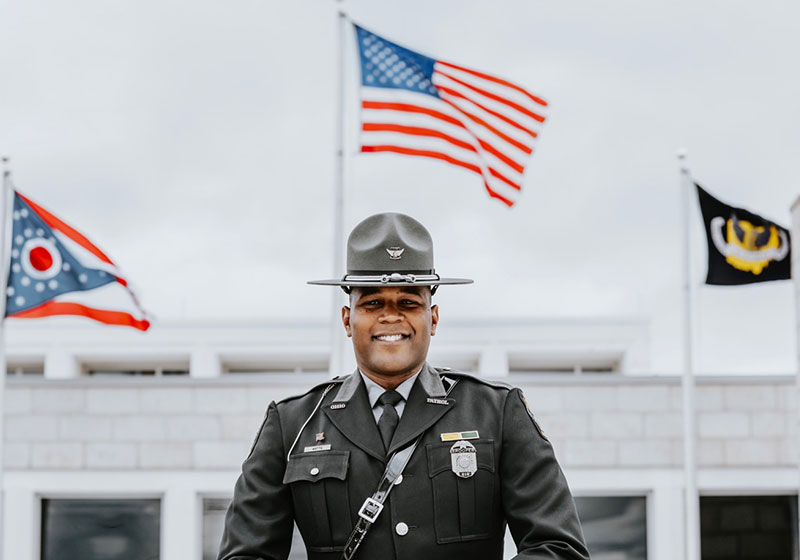 "Wheeling University is mission-driven. Trooper Chase Watts's commitment to serving his community and advancing trust, positive relationships between students and first responders is the type of commitment to community service we work to instill in our graduates," said Wheeling University President Ginny R. Favede. "I had the good fortune of meeting Mr. Watts recently, and was immensely impressed with his desire to make a positive improvement in his community. Mr. Watts is an excellent example of the type of role model our students need. He serves as an example – inspiring others to live meaningful lives. Role models that our students can identify with can show young people how to live with integrity, optimism, hope, determination and compassion."
The Martins Ferry, Ohio native currently assigned to the Office of Recruitment and Diversity with the Ohio State Highway Patrol. He has been an Ohio State Trooper since 2015. His career in law enforcement dates back to 2010 when he became a police officer, before becoming a Belmont County deputy Sheriff in 2013. Watts said becoming a peace officer was his goal from a very early age.
"I am honored to be given this opportunity by President Favede to address the 2022 graduates at Wheeling University. I must admit her invitation took me by surprise. I feel blessed to be able to share my journey, and tell the graduates what I have learned along the way," Watts explained. He plans to offer the class a message that focuses on courage, character and community. "I would like to focus on how important it is to have the courage to use your character to positively influence their community."
Aside from his career in law enforcement, in 2015 Watts founded the non-profit organization, Books with Badges, with the goal to build trust and positive relationships between students and first responders. As part of this program, first responders educate and mentor young people in the community. Today, this organization reaches more that 50,000 students in 22 states across the country.
A year ago, Watts created a juvenile community service program titled Project P.A.S.T. (Positive Actions Shaping Teens). This program partners with several juvenile courts to provide at-risk teens with community service resources and mentorship.
His work to support and mentor students in the community has earned him recognition by a local organization and the Ohio State Highway Patrol.
In 2021, received two honors. Watts was awarded the Martin Luther King Leadership Award presented by the NAACP for his dedicated community service. This award is modeled after Dr. King whose mission was to bring people of all races and backgrounds together for positive change. This award is presented during the annual Martin Luther King Day Celebration in Wheeling, to outstanding leaders whose mission is to make a positive impact in the community.
Watts was awarded the Robert A. Chiaramonte Humanitarian Award by the Ohio State Patrol in March. This annual award recognizes officers dedicated to humanitarian causes within their job duties and in their communities.
"In addition to serving in law enforcement for more than 12 years, I think it is important to be a positive role model in the community," Watts said. "Since 2015, I have dedicated my time to creating programs that provide mentorship opportunities between first responders/juvenile courts and young people in the community. My goal is to continue being a person who can guide and motivate young people to reach their goals and to continue to grow as a leader and role model."
During this year's Commencement, President Favede will award degrees to undergraduate, graduate and doctoral students. The ceremony will begin at 10:30 a.m. inside the Alma Grace McDonough Center. Baccalaureate will be held at 5 p.m., Friday, May 6 in the Performance Gym at the McDonough Center.