July 6, 2023
Wheeling Alumnus Caring for University's Community Garden
WHEELING, W.Va., July 6 – Alumnus Paul Renowisz has turned his love of gardening into a way to serve his alma mater – Wheeling University.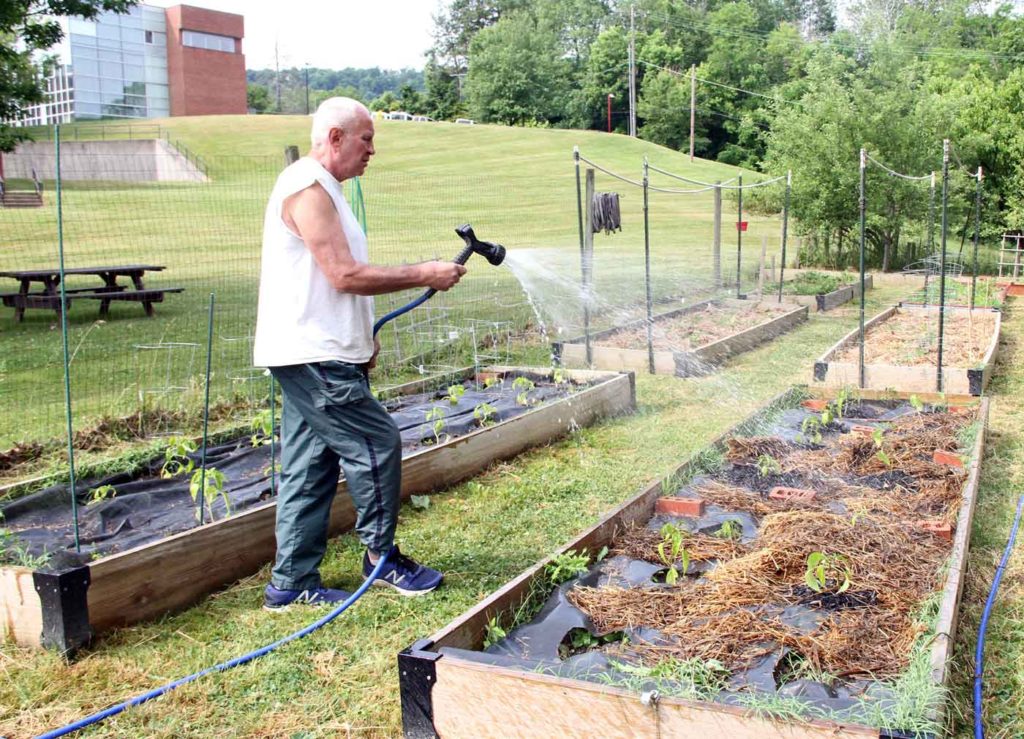 Renowicz, who lives just across from the front entrance to the campus, began talking to President Ginny Favede about how much he enjoys growing his own vegetables and herbs.
"When my husband Lee and I were watering the flowers at the front entrance last summer, Paul would come over and chat with us. Those visits turned into a friendship. He shared his love of gardening, and I asked him if he would be willing to take over our campus garden. This Spring, he began tending to our little garden, and we cannot wait to see the harvest," President Favede said.
Renowicz explained that his grandmother taught him the ins and outs of gardening. "I've been gardening for years. My grandmother got me started, and our family always had a garden when I was growing up," he explained.
Before he could plant all of the tomato plants, various types of peppers and squash, herbs, and potatoes, Renowicz spent many hours preparing the raised beds, pulling weeds, tilling all the soil and fertilizing the beds.
"Serving and engaging with our communities is the foundation of a Wheeling University education. The change we make in one student's life lasts for generations and deepens that student's commitment to others. Paul's volunteer work with the University's Community Garden exemplifies how the educational experience of service-learning transforms students into people for others," President Favede said. "Cura personalis — care of the whole person — involves creating experiences that enable students to prepare for lives enriched by service. Our commitment to social justice issues, such as hunger, is addressed through alumni like Mr. Renowicz, primarily because the produce from our garden is distributed to organizations throughout the community. I am very fond of Paul and grateful for his passion for others and commitment to our University."
Don Headley, a Wheeling Park High School teacher, heard that Renowicz was overseeing the campus garden and donated all of the vegetable plants. Renowicz wasted no time putting them in the ground and is now watching them grow.
President Favede added, "I am grateful to Mr. Headley for his generosity in providing the garden's various tomato, pepper, and squash plants. I hope, through Paul's green thumb, they produce a bountiful harvest later this summer. We can then give those vegetables and herbs to community agencies to help those in need."
"I love to garden, and tending to the campus garden allows me to give back to the school I attended," the class of 1982 graduate said. He comes to campus each day to water the garden and rid the area of weeds. He is cleaning up the compost area and the storage shed as well.
A standout for the Cardinal basketball team, Renowicz said, "Basketball was my hobby, but gardening is my calling."