November 18, 2022
Wheeling University DPT Students Serve in the Community to Mark Global PT Day of Service
WHEELING, W.Va., Nov. 18 – Wheeling University's Doctor of Physical Therapy (DPT) students and faculty celebrated the Global PT Day of Service by undertaking a project at the Garden Park Playground in Warwood.
Each year, to mark National Physical Therapy Month and the Global PT Day of Service, Wheeling University DPT students partner with the city of Wheeling Parks and Recreation Department to enhance a community facility to help promote active lifestyles and healthy habits. This year, the DPT students and faculty spent time improving the playing surfaces at the Garden Park playground.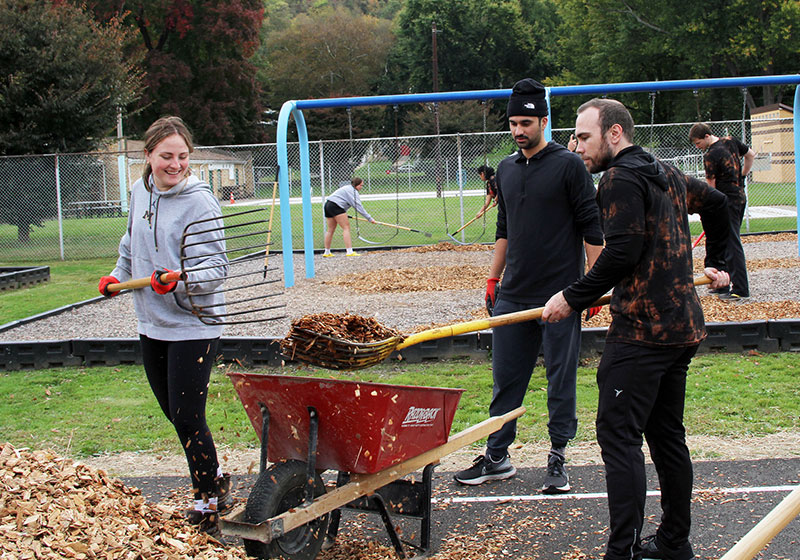 "This project helped to enhance the playground area for the children who use this facility daily," said Dr. Carrie Abraham, clinical associate professor of Physical Therapy. "The work by our students made the playground areas safer."
Dr. Abraham added, "Each year, the program marks National Physical Therapy Month by promoting community health and wellness among our students and the community." Past service work has been done at the Nelson Jordan Center, the 16th Street Playground, Heritage Port, the walking trails and the Patterson Ballfields.
First-year DPT student Kayla Bekier believes the University's mission to be men and women in service to others is an important part of the Wheeling educational experience.
"As an undergraduate at Wheeling, I was able to give back to those in the Wheeling area throughout that time. Now as a graduate student, it is nice to once again provide service that makes a big impact in the city of Wheeling. Doing this work at the park and donating items to help those in need allow us to live the mission of Wheeling University," Bekier explained.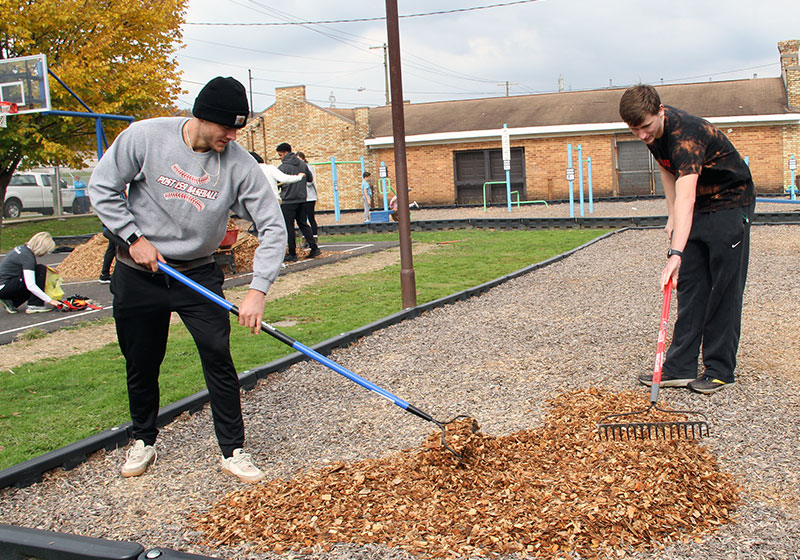 In addition to the project at Garden Park Playground, students in the program were asked to donate cold weather items such as hats, scarfs, gloves, socks and blankets. These items will be given to the DPT program's community partners, such as the 16th Street Neighborhood Center, Youth Services System Winter Freeze Shelter and Wheeling Health Right, for distribution to those in need.
The DPT program, through its Free Care Clinic, provides patient services to many residents around the Wheeling area.
"Our clinic gives students clinical training, but also allows patients who don't have access to physical therapy care or cannot afford treatment to receive the much needed services," Dr. Abraham explained.
Wheeling University President Ginny R. Favede said she is proud that DPT students understand how important it is to be men and women in service to others and our special responsibility to making the world a better place.
"Wheeling University's mission calls each of us to be lifelong learners, leaders in the community and to serve others. Whether providing free treatment in our clinic, providing warm clothing to residents or making upgrades at a playground, our students bring to life our mission on a daily basis. I am grateful that they not only see the importance of serving others, but truly enjoy helping others in our community," President Favede added.