May 7, 2023
Wheeling University Graduates Receive Words of Wisdom and Advice from Gov. Justice
Wheeling, W.Va., May 7 – West Virginia Gov. Jim Justice told the Wheeling University Class of 2023 to find their passion and serve others along life journey, and make sure to surround themselves with people who are 'jacked up and happy.'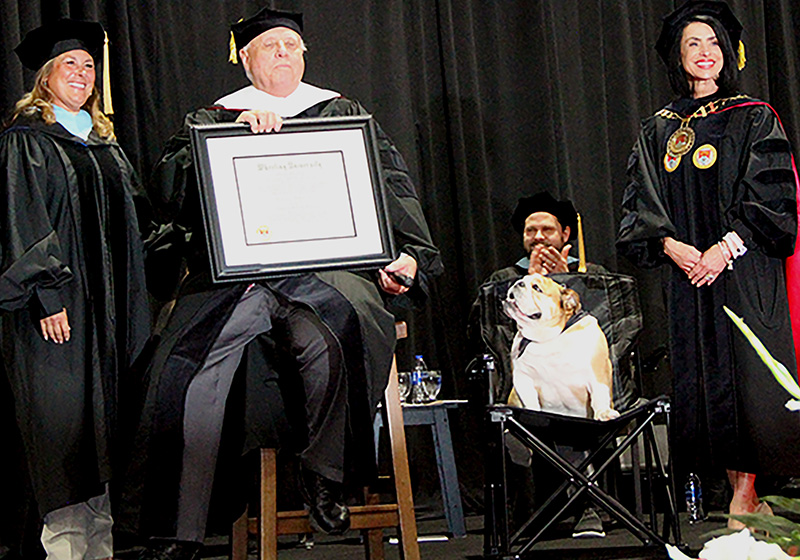 At the University's 65th Commencement, President Ginny R. Favede awarded degrees to undergraduate, graduate and doctoral students. Gov. Justice served as the speaker on Saturday and was awarded an Honorary Doctorate of Humane Letters. 
Governor Justice, with Babydog at his side, offered the graduates words of wisdom and advice during his remarks. He recalled his last trip to campus in 2019. "There was a time not too long ago that we could have lost this institution and all the odds makers were saying its gone … we would be here today without all of you. Everyone was pulling the rope together … All of us made this day happen."
Gov. Justice talked about his family's humble beginnings and how by working hard, he became the governor and the owner of many businesses.
"You can do the same thing. You can make it happen with one word that is really, really important, and that's passion. If you don't have it, you won't get there. You've got to have a real passion for what you're going to do. I hope you find the passion," he said.
Wheeling University's mission calls its students to serve others, and Gov. Justice encouraged the class to continue to live the mission and take time in life to help others throughout life. "You can serve in so many different ways – you can help your neighbor. You can help the church and you can help this University."
The Governor warned the graduates the future will have disappointments and be tough at times. "Remember to surround yourself with people that are jacked up, people who are happy – you'll go much further in life."
In closing Gov. Justice told the Class of 2023 that their professors have prepared them for the next chapter … "You're ready to go. Remember to look in life for what you love and then get after it. You can be everything you want to be."
The Governor and Babydog also greeted each graduate after they received their degrees and posed for photos.
Prior to handing out diplomas, President Favede told the graduates that the Class of 2023 that there will never be another class like this, noting they "stayed the course" through a global pandemic, probation and financial exigency. "You were my first class, the class that helped define the resilience of this University."
She recalled how hard it was "sending you home" when COVID-19 caused a global shutdown in the Spring of 2020, noting the class didn't let the pandemic define their time at Wheeling. After returning to campus from the shutdown, President Favede said, "you returned kinder more compassionate and empathetic. Somehow, you held onto the kindness and support of one another, and you kept moving forward … You will be remembered for your compassion, strength and character."
Like the Governor, the president encouraged the graduates "to continue serving others, helping others. It ends up helping you more than anyone. Mother Teresa of Calcutta said that the key to world peace lies in remembering that 'we belong to each other.' The most powerful thing you can do in the world is stand on the firm ground of your faith and claim your worthiness. Serving others is about doing our best to improve the world."
Also, she told the students to continue being who they were while they were students. "Continue to be who God meant you to be, love one another unconditionally, and support one another and the Lord. Remember that you are not alone. We are all part of a community, and we have a responsibility to help each other … Your Cardinal family will always be here for you. This campus will always be your home."
Class Valedictorian Kimbria Lance of Fowler, Michigan, told her classmates, that for the past month it seemed like each day someone asked me 'are you ready to graduate?' And she responded each time, "not yet, but it's a good thing graduation isn't today".
Lance explained, "In those moments, I was hoping that as our Commencement date approached, my feelings of sadness about leaving and anxieties about the future would subside, and I would suddenly 'be ready to graduate!' Well, here I am, at graduation and I still don't 'feel ready.' I have found we never feel entirely ready for what God has planned for our lives.
The past four years, she said, presented each graduate with opportunities and lessons they couldn't have anticipated.
"Personally, my relationship with God became the most important part of my life, and I started being intentional about investing in meaningful relationships. This resulted in living a much more fulfilling life. God continued to surprise me with His grace, blessings and plan. I never thought I could be the kind of person who led a Bible study, organized campus activities or podiumed at our conference track meet, let alone graduate at the top of my class, but it is by the grace of God that He made these things possible. He placed the most remarkable people in my life who shaped me into the person I am today. Our university is unique in this way. The opportunities and room we had to learn and grow is like no other," Lance said.
She also told her classmates to take time to thank and show appreciation to those people who helped get them to "this moment right now. Show you appreciation for their support in your life, because none of us got here alone."
Wheeling University, she said, will always hold a special place in her heart. "The close-knit community, Catholic roots and wonderful campus are all reasons why I love this place, but the part I love most is the people. As we ponder our favorite memories here, it is the people in those memories that make them significant … I will carry these memories with me forever, because they have shaped me into the person I am today and will always be a part of who I am. I hope that you carry these memories with you wherever God takes you. Remember that it is okay to feel unprepared, because God's plan is so much greater than anything we could have ever imagined. We must give ourselves enough grace and the freedom to fail, because no accolade or achievement will ever fulfill us in the way we hope it will. It is the people we invest in and our relationships that matter so much more than any grade we get in a class, points we score in a game, or money we make at our job."
The Valedictorian ended offered a quote from St. Catherine of Siena – "be who God meant you to be and you will set the world on fire."
"As we receive our diplomas and our time here comes to an end, I challenge each of you to let your light shine and set the world on fire."
The University honored Dr. Bryan Raudenbush, professor of Physical Therapy (Neuroscience & Research), by awarding him the Fr. Edward Gannon, S.J. Outstanding Teaching Award. Each year, Wheeling University gives two medals during Commencement to those graduates who have distinguished themselves both in service and in academics. The Mary Woomer Medal and Archbishop John J. Swint Medals, are given to the woman and man in the class who most exemplifies the ideals of Wheeling University. Brooke Briggs was the recipient of the Woomer Medal, while Joshua Wessler was given the Swint Medal.