December 21, 2021
Wheeling University Holds Installation Ceremony for President Ginny R. Favede
WHEELING, W.Va., Dec. 21 – The Most Rev. Mark E. Brennan, Bishop of the Diocese of Wheeling-Charleston, presided over a Mass Friday, Dec. 3, where Ginny R. Favede was installed as the 13th president of Wheeling University. President Favede had chosen to postpone this official installation to focus on the University and its students due to COVID.
Before more than 200 guests inside Troy Theater, University Board Chair Maribeth Arlia administered the official oath of office to President Favede before family, friends, delegates, alumni, faculty, employees, students, the Jesuit community, and dignitaries.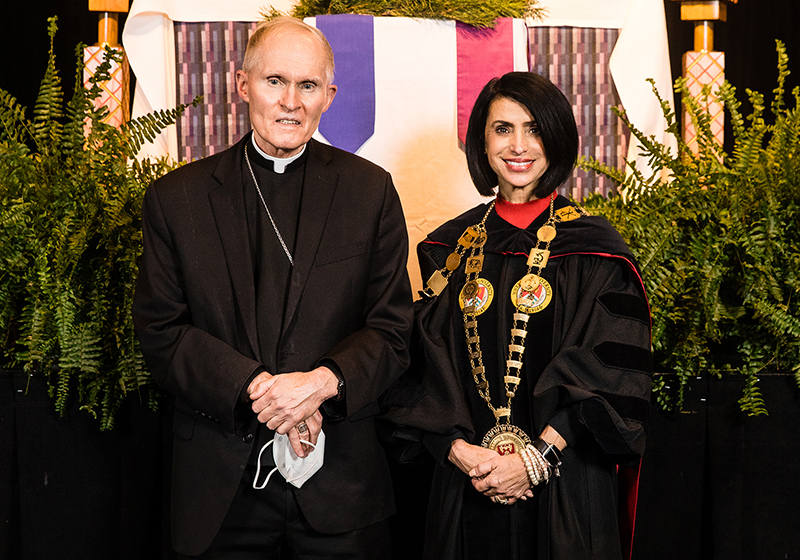 During his Homily, Bishop Brennan commended President Favede for bringing hope to "a university community that to quote Isaiah 'one that was living in gloom and darkness.' She has done so because she believes that Catholic education at the university level is still relevant in this city and in these times of great social ferment and division."
The Bishop noted that the President faced and continues to face a 'mountain of challenges.' He added, "But your approach is not … it's my job, I'll put in my eight hours each day and then go home, and pick up my paycheck. No, you believe in the mission of this school, which is to foster faith and virtue among its students and to equip them with knowledge and skills that will make them useful for our society and our church."
He said Favede is the kind of leader Wheeling University needs and commended her for her courage and compassion to provide such leadership. Bishop Brennan encouraged her to nourish herself with daily prayer so that "you will have the strength to climb mountains and all those challenges that you face every day, and (the strength) to foster the faith and spirit of Jesus Christ on this campus."
The Bishop ended, "Ginny Favede – you are a blessing to this school. Be stout-hearted, work hard and wait patiently for the bounty of the Lord to appear."
Following the Bishop's Homily, Arlia officially installed Favede as the president, granting her "all the rights, privileges and responsibilities" the office holds. The president accepted the leadership responsibilities, saying, "With God as my witness, I pledge to lead with humility, honesty, and integrity, and always strive to make decisions that are in the best interest of Wheeling University."
Bishop Brennan concluded the ceremony with a prayer for the President. "Blessed are you, Lord God, creator of the universe and Father of all: you have called us to serve you and praise you each day. Look with mercy on your daughter, Ginny Favede, who will serve as President here at Wheeling University. Bless her and purify her heart this day that she may always live the example of Jesus. Bless too the members of the Wheeling University community – students, faculty, staff, Board of Trustees, and benefactors – may they continue to grow in unity and love as they strive to be a sign of your presence in our midst."
At the conclusion of the Mass, President Favede offered remarks, saying Archbishop John Swint believed the Diocese had an obligation to provide students in Appalachia educational opportunities grounded in the Catholic tradition. She expressed her gratitude to the Diocese of Wheeling-Charleston for its partnership and support of the institution from the beginning.
"This place … is extraordinary. One only needs to spend an afternoon here to recognize it. (It is) The people who make up the fabric of this place," President Favede explained, and proceeded to lift up faculty, staff, and coaches, some who have worked at Wheeling for many years.
"They stay out of love, devotion, not just a job – you can find that anywhere. This is a way of life – a calling," the President said. Among those that Favede expressed gratitude for were the three Jesuits – Fr. James Conroy, Fr. Richard McCouch, and Fr. Hadi Sasmita – "who choose to be here, remaining loyal to their Jesuit mission and to this University's faculty, staff, and students. Their loyalty and love of this place led them to request to remain as part of our campus and commit themselves to help in saving this special place."
The students who attend Wheeling, President Favede said, are special. "Wheeling's students have, in some ways, renewed my hope in humanity … Our students are astounding human beings who possess the ability to change the world. This campus is overrun with these brilliant, young, generous souls … every day, this University teaches all of us how to be a person for others – it's a beautiful concept isn't it?"
She explained that remaining true to the founding principles and mission must always be a priority. "Since 1954, Wheeling has given students opportunities to grow through traditional learning models, experiential experiences, internships, community service, and faculty-guided research … Our mission is more than words on a page – it is a part of our soul as a university. It is woven into every aspect of university life – not just for our students, but our faculty and employees."
"At Wheeling University, we prepare our students to enter the world engaged, involved in their communities, taught to use their God-given talents not just for personal fulfillment, but in service to others. At Wheeling University, teaching strength of character will always be our calling. At Wheeling University, we will always educate students for life, leadership, and service. At Wheeling University, our mission will always be to be men and women in service to others … to produce intelligent, moral leaders who will champion the Ignatian values of faith, peace, and justice," she added.
President Favede ended, "Bishop Brennan, members of the Board of Trustees, thank you for the faith you have placed in me. I am beyond blessed to be given the mission to lead this magnificent place. Please join me as we continue to carry our mission forward, guided by our Catholic faith to work together, serving one another and the Lord to make the world a better place."