August 26, 2022
Wheeling University Readies for Launch of 2022-23 Academic Year
WHEELING, W.Va., Aug. 26, 2022 – Move In Day and Welcome Week mark the official start of the Wheeling experience for its new and returning students. Wheeling University is preparing to begin its academic year on Monday with a new student class that reflects one of its most culturally diverse groups in many years.
Friday was the start of Wheeling University's Welcome Week, kicking off the University's official welcome of the class of 2026 to campus. During its annual Move-In Day, members of the campus community, including faculty, staff, coaches, and student leaders, helped the new students and their families move into residence halls.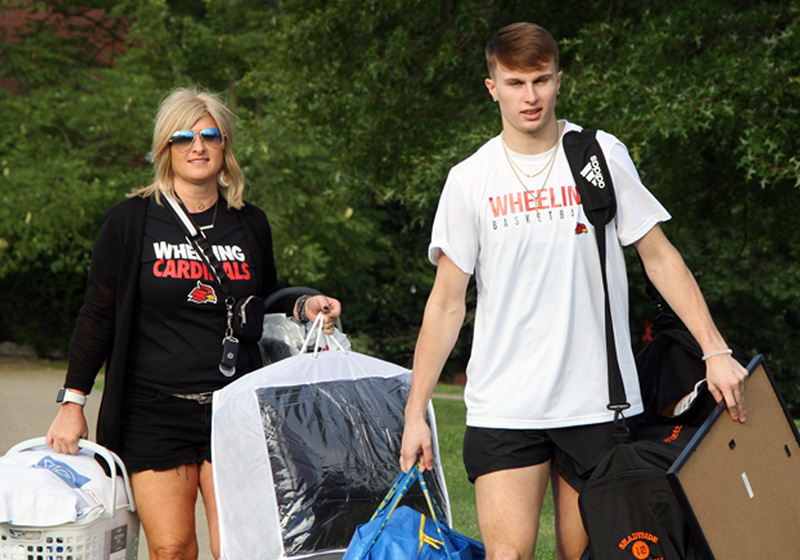 "Wheeling University Welcome Week is a time for the University community to welcome and introduce our new Cardinals to the campus, our mission, and the larger Wheeling community. We are excited to welcome an amazing group of outstanding young men and women that includes students from around the world and our own neighboring high schools. The Class of 2026 includes 42 new international students who are making their way to Wheeling from countries around the world. Wheeling's commitment to international recruiting and cultural diversity creates a more productive environment, enriches the experiences of the entire university community for everyone and prepares our students for work in a global society," said President Ginny R. Favede.
The Class of 2026 is slightly larger than last year's incoming group. The admissions department reports significant increases in international, non-traditional, transfer and first-generation college students. Additionally, students who make up the class came from 22 states and 24 countries. The largest groups of new domestic students hail from Ohio (49), Pennsylvania (26), West Virginia (25), and Maryland (12). International students arrived in Wheeling from around the globe, including; Canada, Congo, Chile, Ethiopia, France, Ghana, Germany, Haiti, India, Italy, Kenya, Mongolia, Morocco, Nigeria, Norway, New Zealand, South Africa, Spain, Sweden, Uganda, United Kingdom, Venezuela, Zambia, and Zimbabwe. Based on the current numbers, just over 25 percent of the incoming class identifies as a student of color, a significant increase over last year. True to the University's Catholic mission and heritage, first-generation students make up more than 20 percent of the incoming class.
President Favede attributes the success, in part, to her team's mission-based, personalized approach to working with students and families, accompanied by a strategic focus on recruiting both internationally as well as locally. As a result, Wheeling's incoming class includes students from many area high schools, including Bellaire, Brooke, Buckeye Local, Cameron, Edison Local, John Marshall, Linsly, Magnolia, Martins Ferry, Wheeling Park, Weir, Shadyside, St. Clairsville, Steubenville, Weirton Madonna and Wheeling Central Catholic.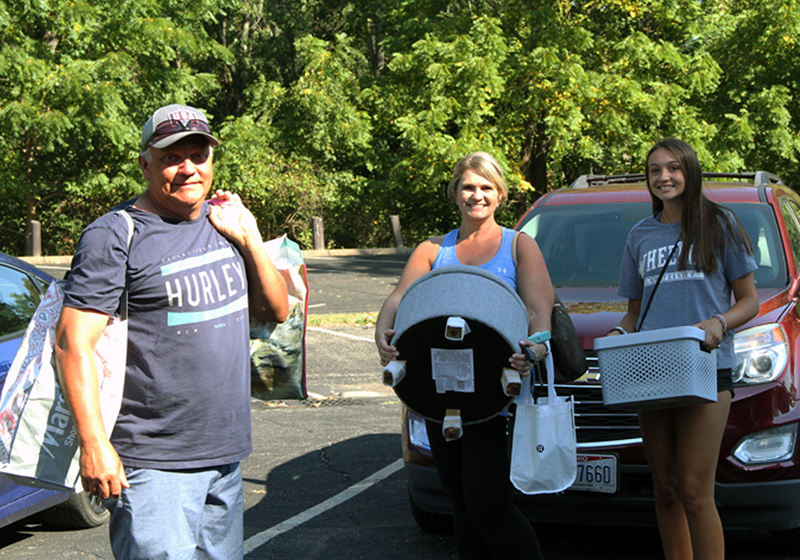 "The admissions team worked hand-in-hand with our faculty and coaches to bring in a class of new students that we believe will be tremendously successful at Wheeling University. In addition, the large number of international students this year will introduce our domestic students to new cultures – broadening their educational experience," said Jennifer Board, director of Admissions.
Welcome Week for the incoming class was highlighted with an academic Opening Convocation Friday evening. Opening Convocation is Wheeling's traditional way of celebrating the start of the academic year, similar to how commencement serves as the closure. The convocation ceremony featured faculty and administration in academic regalia, who officially greeted and formally accepted the students to the University learning community. The Convocation featured greetings from President Favede, Student Government President Batson Sheets, and Faculty Council Chair Dr. Kristine Grubler.
New Cardinal Days for incoming Wheeling students — both first-year and transfer students – features the University's Make a Difference Day, where students spend Saturday exploring the City of Wheeling through service. Daytime hours will be devoted to participating in service projects in the community. The projects, developed by the Office of Student Services, will have the students participate in volunteer work with local service, including Greater Wheeling Coalition for the Homeless; Wheeling Catholic Charities Neighborhood Center; the YWCA; the Salvation Army in Bellaire; Laughlin Memorial Chapel; Mount St. Joseph; the Ohio County Animal Shelter; Grow Ohio Valley; The Welty Home and other local agencies.
The heart of the University's mission is dedicated to servant leadership – a cornerstone of a Wheeling University education. Wheeling's culture of serving others permeates its campus and throughout the world. Make a Difference Day is the first time Wheeling students experience what it means to live Wheeling's mission to be a person in service to others. In addition, the day of service provides new students with an opportunity to experience how service impacts the lives of others in our community.
The 2022-23 academic year at Wheeling brings the relaunch of an undergraduate major in Theology and the addition of a Master's of Athletic Training, MS in Organizational Leadership. On the undergraduate side programs are offered in Sports Management, and Entrepreneurship tracks in Business Administration, Pre-professional and Earth and Planetary Science tracks in Biology for Pre-med/Vet/Pharma and STEM students; behavior health and counseling track in Psychology and a Juvenile Justice Certificate, Justice Enforcement Certificate and the Chemical Dependency Certificate in Criminal Justice; English as a Second Language (ESL) certificate and a minor in the English; an ABET aligned 3+2 bachelor's to master's in Engineering articulations agreements, and ATMAE aligned Applied Engineering track in Engineering; and an accelerated 16-month Bachelor of Science in Nursing (BSN) degree completion program.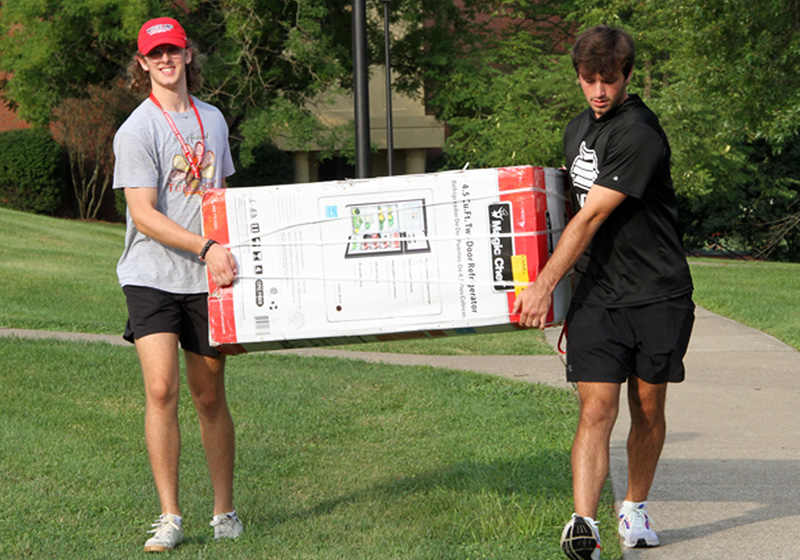 Additionally, students majoring in nursing and other health science programs will benefit from new state-of-the-art Health Care Simulation Laboratory featuring a 3D Anatomage virtual dissection anatomy table and VR A&P tablets; digital mannequins; and iPads bedside care. The Anatomage Table is the most technologically advanced anatomy visualization system on the market. According to Anatomage, it is both a virtual library of human and animal cadavers as well as a clinical diagnostic tool by visualization of any Medical CT, CBCT, or MRI scan.
Wheeling proudly remains the only campus-based Catholic institution of higher education in West Virginia. According to the Association of Catholic Colleges and Universities (ACCU), Wheeling University is one of only 12 diocesan-sponsored universities in the United States. In addition to Wheeling, those other institutions include; Carroll College, Catholic Distance University, Donnelly College, Gannon University, Loras College, Mount St. Mary's, Seton Hill University, St. Ambrose University, St. Thomas University, Thomas More University, University of Dallas, and the University of St. Thomas (M.N.).