March 28, 2022
Wheeling University Students Will Bring to Life Christopher Durang's Comedies in April
WHEELING, W.Va., March 28 ­ – Wheeling University students will present an evening of One Act Plays April 11 – 12 inside Troy Theater.
University Theater Guild student actors will bring to life four comedies by Christopher Durang. The one act productions are: The Funeral Parlor, 1-900 Desperate, Canker Sores and Other Distractions and DMV Tyrant.
The curtain rises each night at 8 p.m.
The cast who will perform the comedies include: Eva Tolliver, Jenay Soumahro, Susan Trammel, Chief Chipfumbu, Terrance Helm, Jr. and Salem Mwelwa. Mecca Clarouly will serve as a stage hand.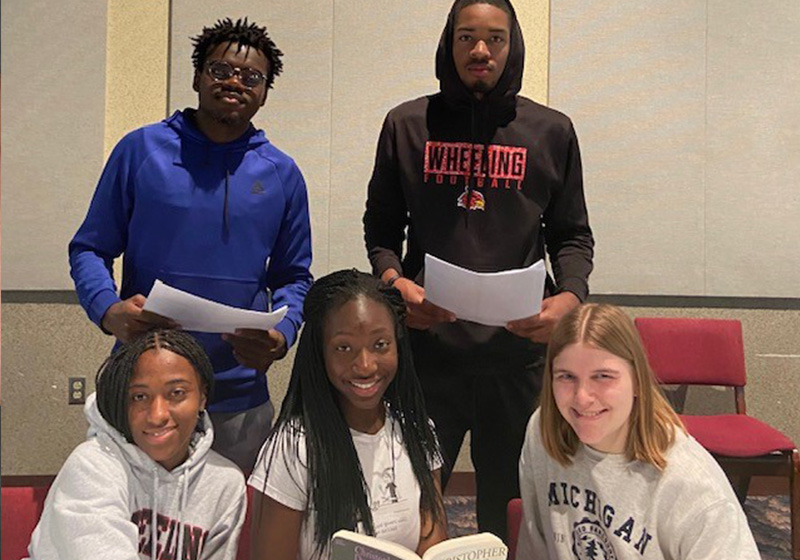 According to Dave Henderson, who is directing the production, "Some of the students have never acted before or have limited experience on the stage. It's great to see them come together to perform and share their creative spirit with their peers and members of the community. You will be amazed by the talent here at Wheeling University. I hope you can join us for one of the performances. "
Last fall, Soumahro and Tolliver made their stage debut with starring roles in the production of Laundry and Bourbon. According to Henderson, who had the chance to direct that production, these two performers showed talent beyond their years. The pair, he said, turned in outstanding performances in their roles – Soumahro as Hattie and Tolliver as Elizabeth. Soumahro said joining the cast of Laundry and Bourbon last semester "was the most fun and nerve wracking thing I have ever done. It pushed me way out of my comfort zone, but I also saw that I had some hidden potential."
Funeral Parlor tells the tale of a rather peculiar stranger who tries to help a grieving widow deal with the death of her husband in some very bizarre ways. 1-900-DESPERATE centers around Gretchen, who is nagged by her mother about her empty love life. She calls a romance talk line to find only other women and one young man named Scuzzy. When a five-year-old child dials by mistake, Gretchen finds his innocent babbling preferable to all the adults on the call.
Canker Sores and other Distractions brings to life the story of a man and a woman, previously married who try to reconcile over dinner. The reconciliation is ruined, however, by a canker sore and a talkative waitress.
The one act play – DMV Tyrant – offers the story of a man who goes to a derelict clerk at the Division of Motor Vehicles and tries to get his license renewed with infuriating results.
The stage production is open to the public at no charge.
–30–