February 23, 2022
Wheeling University Transforms Benedum Room into a 'Dining Destination'
WHEELING, W.Va., February 23, 2022 – Wheeling University has invested nearly $300,000 to transform its dining facility into a 'dining destination' that offers students a place to eat meals, as well as socialize and study.
According to Wheeling University President Ginny R. Favede, "Renovating the Benedum Room allows us to utilize this space as more than a dining facility. The upgrades we made will give students a place where they can eat meals, relax, study and build community."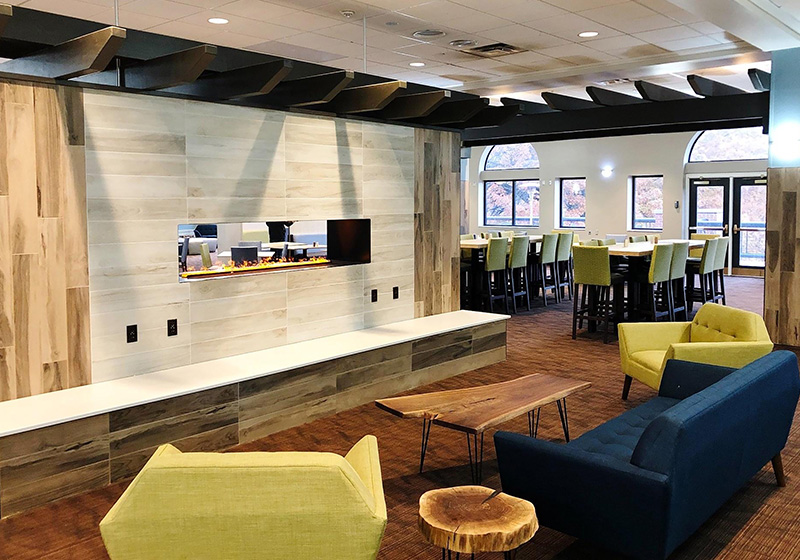 In 2019, the University partnered with food service provider Aladdin, with a commitment to creating 'a campus dining destination,' President Favede said. The cost of the redesign is being provided as part of Wheeling's affiliation with Aladdin.
A flurry of activity began inside the Benedum Room last summer, the president noted. Workers from JD&E Contracting of Wheeling brought to life the plans crafted by Wheeling Alumnus Tim Crowley '90 of Breisch and Crowley, a design firm in St. Clairsville, Ohio.
"Tim's design for the area includes new seating options for dining, as well as areas where students can unwind or study," President Favede said. "Our goal with the redesign, was to meet the needs of today's students, by creating a great social space that will remain open for students to enjoy during and after food service hours."
In addition to traditional table and chairs seating, the 'new' Benedum Room now offers students and employees booths and a counter-style seating areas – complete with charging stations for handheld devices and laptops.
President Favede added, there are couches, armchairs and ottomans to allow students comfortable seating to spend time with classmates, meet with a faculty member or just take it easy. The centerpiece of the renovation is a ceramic-wall featuring a water vapor fireplace, complete with seating around the area. Four large screen televisions were installed throughout the room so students can watch the news, sporting events or their favorite shows.
Crowley said as an alumnus, he was honored when President Favede contacted his design/build firm to help design the Benedum Room renovations. He explained after onsite meetings and numerous discussions, his excitement grew when he learned of the potential to transform the space into not only a dining area, but also a student union.
"As we explored multiple designs to provide for varied dining seating options, we were able to introduce cool design features like multiple lounge areas, pergolas, live edge tables and even a cutting edge hi-tech water vapor fireplace feature! The time available to bring the project to life, from drawing to reality, was tight. Our entire team, including the Interior Designers from Aster Industries and the contractors from JD&E, Inc., all worked incredibly hard to make it happen," Crowley added.
Crowley was installing the live edge wood tables when the new students arrived on campus in August. "It was incredible to see the energy and excitement from the students who were already making 'The Cardinal's Nest' a special place of their very own. It brought back a lot of wonderful memories."
Vice President for Student Services, Andrew Lewis said the renovations offer students a true student union.
"The Benedum Room is now a place where students can gather, not only to eat, but to socialize and enjoy each other's company. This newly designed space gives our students a great place to study and hang out with friends throughout the entire day," Lewis said. "The addition of the water vapor fireplace is something very unique and adds to 'feel' of the room. President Favede continues to make upgrades that will benefit the students, and renovating the Benedum Room is just one more example of how she is putting the needs of our students first."