April 1, 2021
Wheeling University's Undergraduate Research Enhances Students' Education
WHEELING, W.Va., April 1 – Wheeling University's vibrant undergraduate research opportunities enhances the student educational experience, while helping them build valuable skills they can use in graduate school or the workplace.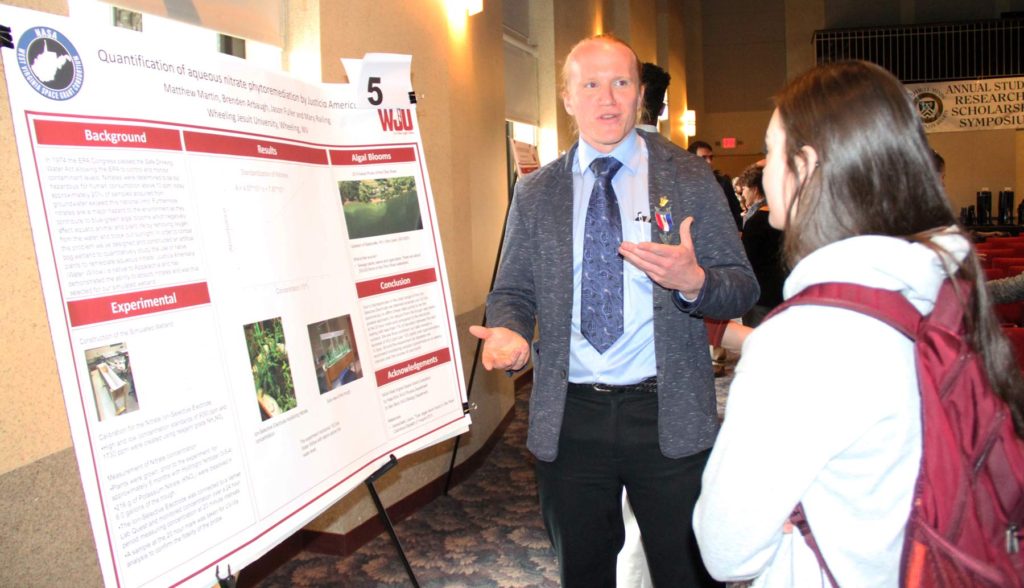 In an article written by David Lopatto and published by the Association of American Colleges and Universities, research shows that undergraduate research has a high impact on the student experience and helps those engaged in research become better students – a benefit that carries through to the classroom
Two faculty members at Wheeling University agree with this conclusion. Their students are making final preparations to present scholarly work at the institution's annual Research and Scholarship Symposium, now in its 21st year.
Dr. Kristin McCombs, assistant professor of Psychology, said students in the program conduct at least three research projects during their four years at the University. First, they learn research methods and then they apply those skills to specific content when they undertake two research projects.
"Research projects allow students to use critical thinking. Most of the time, they are designing these projects from their own ideas and interests. Each project requires a research paper and oral presentation, which give the students experience they will need as they transition to graduate programs or the workforce. Working through these projects is often collaborative, so it helps students build project management skills and leadership," Dr. McCombs explained.
Research conducted at Wheeling University is done by students in a variety of majors, including the liberal arts.
Dr. Paula Makris, associate professor of English and chair of Liberal Arts, said all University students must write a research paper as part of the course requirement for Process of Composition. Also, students must include research in two speeches they are required to
present during Principles of Professional Speaking. Both these courses are part of the undergraduate core requirements to graduate, she explained.
Additionally, English majors must research, write and present a research paper for their senior thesis course, Dr. Makris added.
"Research is the means by which students are introduced to their disciplinary worldview –reading peer-reviewed articles, and synthesizing the ideas of others trains them to think like a scholar in their field," she said.
In addition to research from liberal arts majors, students in the sciences will exhibit posters and give oral presentations during the Research and Scholarship Symposium Wednesday, April 7.
Research presentations aren't limited to this on-campus event, Dr. McCombs explained. While the pandemic has limited access to many symposiums students and faculty would normally attend, this year University students have gotten to present their projects to peers at other academic institutions via online research conferences.
"Opportunities like Research Day help improve both confidence and competence for our students. By showcasing their work and presenting it on campus and at conferences, students are able to take ownership of what they have learned in the classroom and begin to apply it towards their next steps in their fields," said Dr. McCombs.
Wheeling University President Ginny R. Favede said research at the institution has been a vital part of the undergraduate student experience for more than two decades.
"Participating in and presenting research at conferences across the country and around the world is what sets Wheeling University apart from many peer institutions. Such experiences allow our students to grow within their discipline, while developing professional skills that position them well for graduate school or the workplace," President Favede noted.