September 11, 2023
Wheeling's DPT Students Introduced to Mission During Orientation
Wheeling, W.Va., Sept. 11 – The newest cohort in Wheeling University's Doctorate of Physical Therapy (DPT) Program learned the importance of serving others on their very first day of class.
The University's mission calls on its students to live a life of service to others, and the director of the program decided to incorporate service learning into the new students' orientation.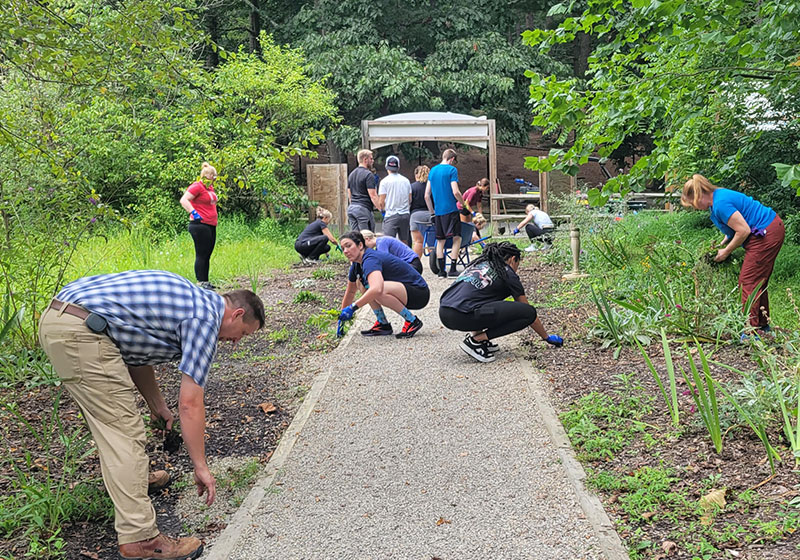 "Our first year DPT students participate in local Service Learning as part of the curriculum in the second and third terms. This year, the faculty decided to add a service project to orientation to reinforce the mission of the University and our department," said Dr. Alison Kreger, director of the DPT program.
The students, along with several faculty members, worked at the Oglebay Zoo's pollination garden. "They weeded areas and cleaned up the garden, as well as learned more about Oglebay's conservation sections of the zoo, the many projects that happen at the zoo and opportunities available to the students," Kreger said.
"One of the pillars of our mission is to teach students to serve others," said Ginny R. Favede, president of Wheeling University. "Each of our academic programs incorporate service learning into its curriculum. Having service built into the coursework teaches the students to be servant leaders throughout their lives."
Kreger noted, the future physical therapists, regardless of where their careers take them after graduation, will be serving their communities. "Part of the DPT program's mission is to help students realize that they have skills to share – that they can make a difference in the community."
The students are shown, that they can make a difference and give to the community in a variety of ways –spending time at a senior center, working in the department's pro bono clinic, volunteering at the Edelman Garden, as well as volunteering at the zoo and Wheeling Health Rite. Participating is service opportunities, Kreger said, "helps the students realize the importance of the community and family when treating patients."
Kreger noted, "Faculty within the program set a positive example for the students, as each members is involved in service in a variety of ways, including state and national association positions and involvement, medical volunteering, as well as serving at the United Way and with professional associations.
In addition to working at Oglebay, the new group had the chance to bond as a class and get to know one another in a relaxed setting, Kreger added.
"This day was a nice change of pace from the classroom and other typical orientation activities. The students really enjoyed being together and talking to the faculty and their fellow students, she explained.