February 3, 2023
WVICU Estimates Wheeling University's Economic Impact in the Region at More Than $38 Million Annually
WHEELING, W.Va., Feb. 3 – Wheeling University not only makes a difference in the lives of the students it educates, the institution is estimated have a financial impact of nearly $38.4 million on West Virginia's regional economy.
A study conducted by the West Virginia Independent Colleges and Universities (WVICU) shows the extensive contributions Wheeling and other independent institutions have on the regional economies across the Mountain State. The organization looked at institutional and financial data from the 2021-22 fiscal year and used the IMPLAN® economic impact modeling system to assess and quantify the economic effect Wheeling makes on the local economy.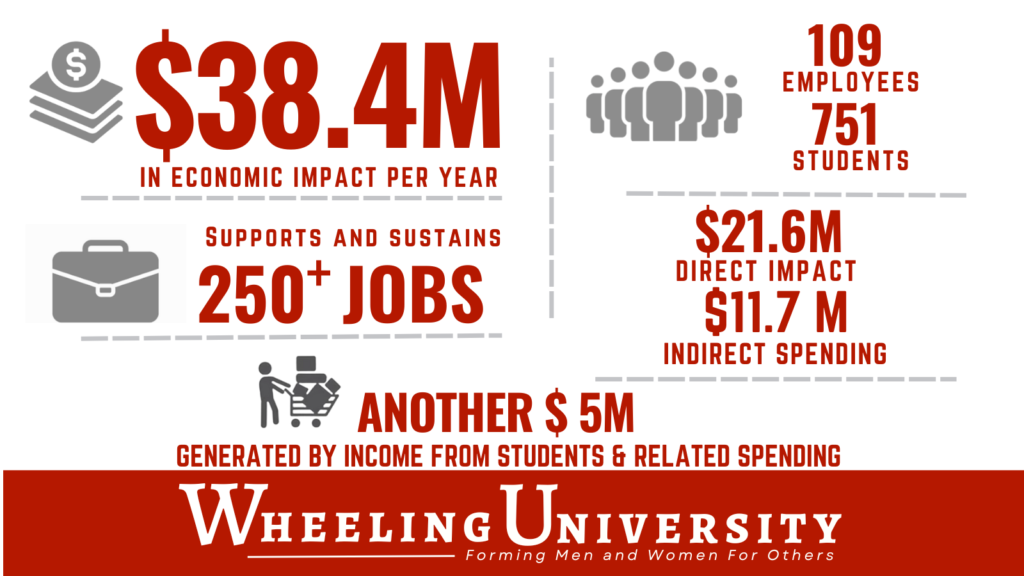 "Wheeling University's faculty and staff are committed to our mission and the success of our students, but it is important to remember that this institution also plays a vital role in both the state and regional economies," said University President Ginny R. Favede. "Wheeling University's operations and the economic activity generated by our faculty, staff and students touch nearly every aspect of our local economy, including education, hospitality, childcare, healthcare, construction, maintenance and retail. We have always known that this university was important to the Wheeling economy and this study demonstrates the powerful impact our students, employees and the institution make as a whole."
According to the WVICU report, Wheeling's total payroll compensation is $6,236,527, with the direct impact calculated for the University totaling $21.6 million. The study estimates that another $11.7 million will also be created through the region as a result of indirect industry-specific spending. Additionally, the WVICU estimates that another $5 million is infused into the economy from induced income from students, household labor income and related spending in the supply chain for goods and services.
"Economic impact measures the significance of an organization in the regional economy and Wheeling is clearly a major contributor. The long-term impact of our continued dedication to our local community is impossible to put into simple numbers. Hometown pride may not be a traditional economic indicator, but it certainly translates into positive economic results," President Favede added.
Wheeling Mayor Glenn Elliott agrees the University is a key contributor to the local economy.
"When you think of all the benefits that having a higher education institution like Wheeling University brings to a community, it is easy to overlook the raw economic impact in its own right. But $38 million is a very significant number for our local economy that should not be underestimated," said Mayor Elliott.
The report, President Favede explained, reveals the University supports and sustains more than 250 jobs locally – through direct employment at the University and through indirect jobs created by vendors, contractors and local labor which perform construction and renovations on the campus. Additionally, she noted, the campus community and visitors impact job creation at area restaurants, hotels and retail establishments, through their support of these local businesses.
What this report does not calculate is 'human capital' Wheeling educates each year – well-educated students grounded in Catholic, Ignatian values.
President Favede said, "Wheeling University prides itself on outstanding academics, strong athletic programs and an exceptional sense of community and belonging. This University has a mission to educate men and women to be intelligent, moral leaders who will champion the Catholic values of faith, peace and justice. Many of these young men and women stay in the region once they graduate – becoming important contributors at our hospitals, banks, schools and communities. Their impact is immeasurable," President Favede added.
The head of Regional Economic Development Partnership agrees the University makes a big impact in the local area.
"As a regional economic development organization, the importance of our higher education institutions in both retaining and attracting business and industry is critical to our collective success. Wheeling University, in addition to our other private college, state university and community college, play a major factor in demonstrating the current and potential level of professional workforce we can provide throughout northern West Virginia," said Josh Jefferson, president of the Regional Economic Development Partnership.
Wheeling University remains the only campus-based, Catholic institution of higher education in West Virginia. According to the Association of Catholic Colleges and Universities (ACCU), Wheeling is one of 12 diocesan-sponsored universities in the United States.