50 Year Club Lecture Series
This Land is Home to Me
I'm Part of the Story – Lecture #1
---
This Land is Home to Me
Bridges To and From "This Land" & "Our Common Home" – Lecture #2
---
This Land is Home to Me
Jubilee Time: 50 Years A-Growing – Lecture #3
---
This Land is Home to Me
As a Bridge to the World as Our Common Home – Lecture #4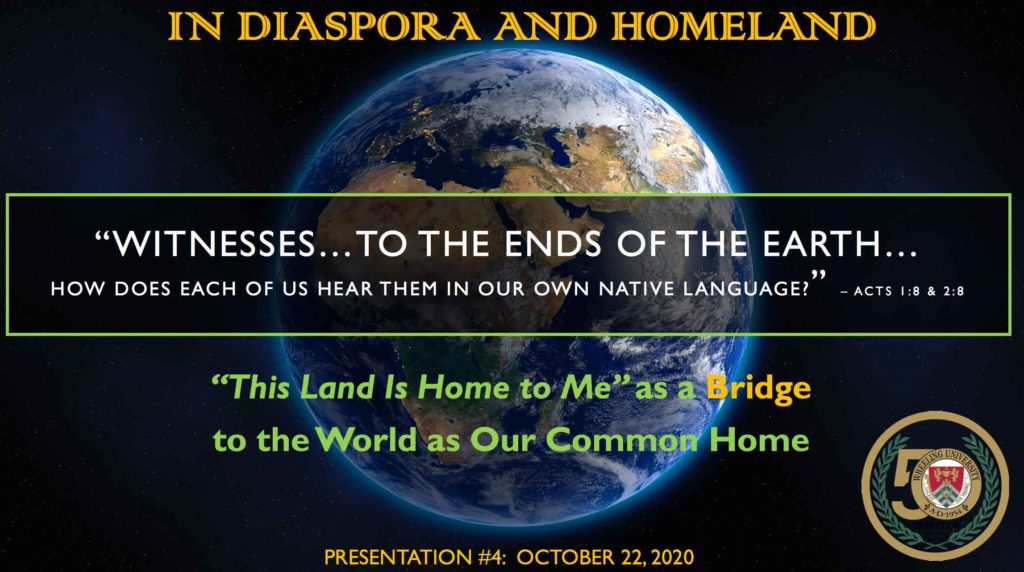 ---
Has the Jesuit Educational Experience at Wheeling Jesuit University changed over the last 50 years?
Edited from the 50 year club lecture 2011 Rev. James Fleming, S.J. – University Vice President & Chief of Staff
Alumni often comment – sometimes in a worrisome way -that "Wheeling College isn't like it was back in the day." They are correct …It's not. If it were, we'd still be playing in the old gym, fewer students would be engaged in research with faculty, and residence halls would not have AC. Although there are several differences between the Wheeling College some alums remember and the Wheeling Jesuit University of this new millennium, one aspect of the Jesuit educational experience has not changed. Today, as in the past, WJU offers its students intellectually informed serious conversations about important topics in a moral context.
There are several different and equally worthy ways to describe the Jesuit educational experience. Think of what this four part description outlines as an educational experience.
Intellectually informed: "This is a university, my dears," I heard a Jesuit remind his students last fall as I passed his classroom, "you're supposed to be confused." The 450-year tradition of Jesuit education flourishes on the old Steenrod farm in these rolling hills of Appalachia. Discussions -whether they take place in the classroom, in the B-Room, or in the barroom – are packed with established knowledge heard for the first time and aimed at uncovering new knowledge as the inquiry continues.
Serious conversations: We've all been involved in late-night discussions among friends on the way back from practice, after rehearsal, or while watching ESPN. Meaningless banter can unexpectedly grow into tense exchanges about a surprising array of topics as new knowledge and reflection-on-experience combine to reveal the possible consequences of holding this or that opinion. We polish our repartee. We test-out a new argument with a teammate. We speak a long-known-but-as-yet-unrevealed truth to a roommate who will be a friend for life.
Important topics: A Jesuit university is oriented toward the uncompromising and unrestricted pursuit of truth and excellence in all disciplines. At Jesuit universities knowledge gained through inquiry brings with it the responsibility to act justly, to deepen one's faith, to prepare oneself for active participation in service in one's church and one's civic community, and to understand global political, social, and economic interdependence. Learning is complex and overlapping – stimulated by but not limited to the formal direct instruction of the lecture hall.
A moral context: How many of us have breathed a sigh of relief thinking we've exhausted all possibilities on a certain topic – feeling sure we will be viewed with awe and admiration by all within ear shot, only to be stopped dead in our rhetorical tracks by an ethical incongruity raised by a faculty member or friend. Who of us as not been reminded of our finitude when, in prayer, we are opened to a possibility that arises from our conscience finally able to break through with simple holy clarity?
These four distinctive aspects of the Jesuit educational experience have remained constant at WJU: intellectually informed serious conversations about important topics in a moral context. Let me offer some recently collected evidence of the presence and shape of this Jesuit educational experience here at WJU.
In the spring 2010, 68 percent of the seniors at Wheeling Jesuit responded to email invitations to complete a 30-item questionnaire called the Wheeling Jesuit University Senior Survey 2010 (WJUSS '10). The WJU respondents were representative of the entire graduating class of 2010. Nationally 3,200 seniors from five Jesuit universities also participated in the same 30-item survey. The WJU class of 2010 reported a culture of intellectual engagement that extended beyond the classroom in which faculty played a crucial role. Eighty-three percent identified a faculty member as a mentor and nearly all seniors reported that they had conversations outside of class with their faculty (starting with 68 percent during their first year and growing to 98 percent by senior year). Forty percent took part in research with faculty providing additional evidence of intellectual engagement. On average at U.S. colleges and universities, only 19 percent take part in faculty research.
This distinguishes WJU as the rare institution that fosters critical thinking through scientific investigation in its undergraduate programs. The survey also highlighted a culture of service. Community service was the most common co-curricular activity – 72% of the seniors reported participating in volunteer community service at some point during their undergraduate years – compared to the national average of 60 percent. Seniors also reported that their experiences of alternative Spring Break programs – both domestic and international – were an important part of their WJU experience. Of those who participated in these programs, 83 percent reported that the trips were "a significant or extremely significant part of their WJU experience." Students reported a strong culture of religious and spiritual reflection. This culture of reflection can be seen in their participation in regular prayer/meditation, (87 percent reported praying or meditating on a regular basis) conversations about their beliefs with friends and faculty, and a surprisingly high rate of participation in retreats. Fostering an atmosphere of reflection is the business of universities and 94 percent of the WJU seniors reported that "compared with when they entered Wheeling Jesuit their ability to reflect on their own life and life choices was stronger or much stronger." Students identified the following activities as "very important or essential" to their religious/spiritual growth. Predictable 63% grew through praying/meditating, and 53% grew through conversations about faith with peers. Unexpected influences included 51% grew through participating in community service, and 47% grew through reflecting on topics brought up in class. A more surprising activity was that 82% of the undergraduates reported that "building strong friendships" was the activity that had the greatest single impact on their spiritual/religious growth during their undergraduate years. If it's true that college students, like all of us, tend to act their way into new ways of thinking, rather than think their way into new ways of acting -WJU undergrads are acting very much like those who have walked before them through these hills of West Virginia and that journey has changed their thinking.